2009/08/11
After climbing CASTOR, the failed try on LYSKAMM WEST, and the climbing to VINCENTPYRAMIDE - BALMENHORN, finally we're climbing the Zumsteinpitze; which is the third height in Monte Rosa.

Today, we are climbing:

- PARROTSPITZE (14,553 ft)
- ZUMSTEINSPITZE (14,970 ft)
- SIGNALKKUPE OR PUNTA GNIFETTI (14,940 ft)

We hope to enjoy the dawn from the Summit of Signalkuppe...
Spanish version in this link:
PARROTSPITZE (4.436 m) - ZUMSTEINSPITZE (4.563 m) - SIGNALKUPPE O PUNTA GNIFETTI (4.554 m)
SITUATION
Monte Rosa. Boundary Range of East Valais. Alps.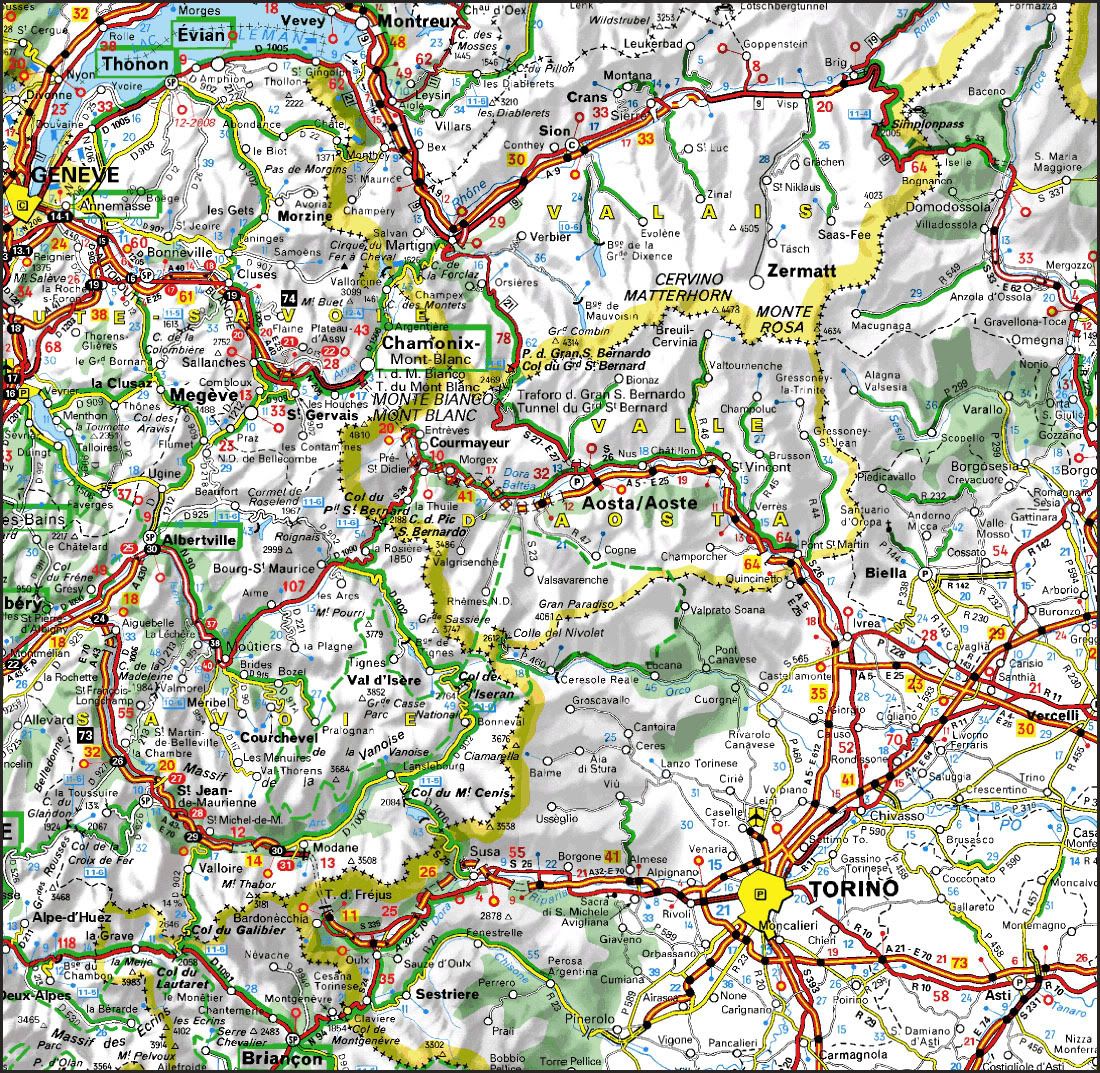 STARTING POINT
Capanna Gnifetti hut, keepedfrom june the 30th to september the 7th.

This is the link to the info about reaching the pass named Passo Salati using the lifters in Staffal 2.009/08/09.

For further information about Capanna Gnifetti hut, check this MONTE ROSA 4.000 or instead CLUB ALPINO ITALIANO.
INFO ABOUT CAPANNA GNIFETTI HUT
Phone number: 0039.0163.78015
Total beds: 180
Keeping season: 30 June - 7 September.
For further information about Capanna Gnifetti Hut, seek in MONTE ROSA 4.000 or instead, CLUB ALPINO ITALIANO.
INFO ABOUT CAPANNA REGINA MARGHERITA HUT
Teléfono: 0039.0163.91039
Capacity: 70 places
Hut Keeping period: june the 30th – september the 15th.
For further information about Capanna Margherita Hut, check out this MONTE ROSA 4.000 or this CLUB ALPINO ITALIANO.
IMPORTANT
It's imperative to book in the reservation centre of Monte Rosa, not only for this hut, but for others sited in this area. It's managed by the Italian Alpin Club. You have to bail the 30% of the bill to confirm the book.

Instead, if you go to the hut with no reservation, there's the possibility of make use of the emergency post. But this is not recommendable.

Booking centre phone: 0039.0163.922805
E-mail: info@rifugimonterosa.it

By the moment we call to this, we'll be requested to send an e-mail with info about ner of places, dinners and breakfasts.

We'll be sended another e-mail with a first code for our booking. This includes the total price for the reservation and indicates the bail to deposit. You can make it by credit card or by making a transfer.

After make the bail we'll receive the final code for the reservation.

You'd better take with you the e-mail with the reservartion in order to log in the hut. There's usually very busy and sometimes keepers might be overwhelmed to manage the booking.

It's possible to make the book this way MODELO DE RESERVA DEL CLUB ALPINO ITALIANO.

CARTOGRAPHY
Sheet ner. 284 Mischabel and ner 294 Gressoney 1:50.000. Swisstopo.
Val d'Ayas Val di Gressoney Monte Rosa 1:25.000 L'Escursionista Editions.

MAP


Property of L'Escursionista Editore.





RESUME


UNEVENESS: 1.300 metres - 4.360 ft (+)




TOTAL DISTANCE: 7,5 km – 4.66 miles




TOTAL TIME: 07:30 hours.


DIFFICULTY: Not difficult (PD).
Grade II pass at the access point of the Zumsteinspitze's Summit.
Esposed snow crest to reach the short rock climbing.
Aerial snow crest to reach the Parrotspitze's Summit.
45 degrees snow slopes ascending to the West Side of Parrotspitze.
Snow slopes untill 35 degrees as general.
GEARS: Basic equipment for glaciers. For further info check this PROGRESIÓN EN GLACIARES Y RESCATE EN GRIETAS, Desnivel Editions.
TRACK LOG GPS
Click on: WIKILOC 20090811 PARROTSPITZE - ZUMSTEINSPITZE - SIGNALKUPPE
CLIMBING
Finally we're climbing the Zumsteinspitze!

Leaving Gniffetti.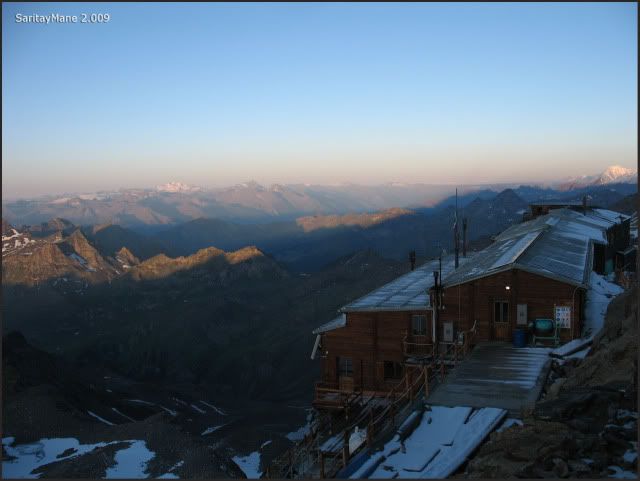 We convene with José Manuel, Eva y Ricardo next to hut's chapel. This is where the alpinists prepare themselves as usual.

The other group of spanish climbers.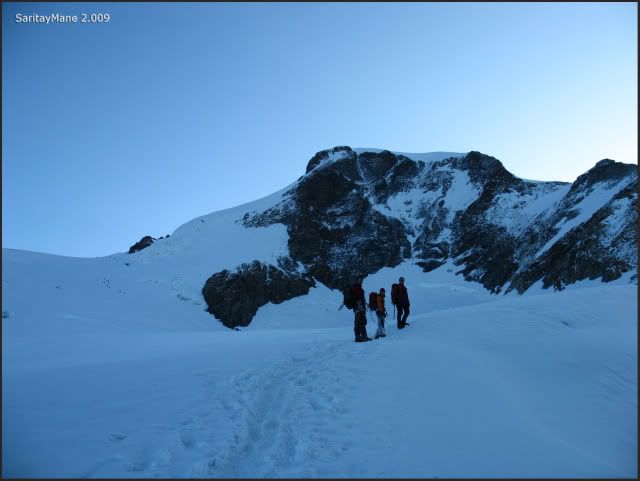 Glancing the Mont Blanc.
We start a bit late ascending. Firstly we follow the footprints to Lisjoch, avoiding the crak area neear here, in the backside of the hut.
These climbers walks ahead.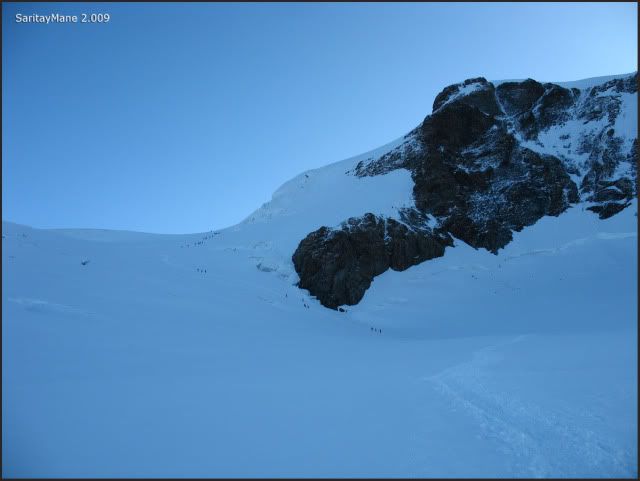 We move fast, feel good.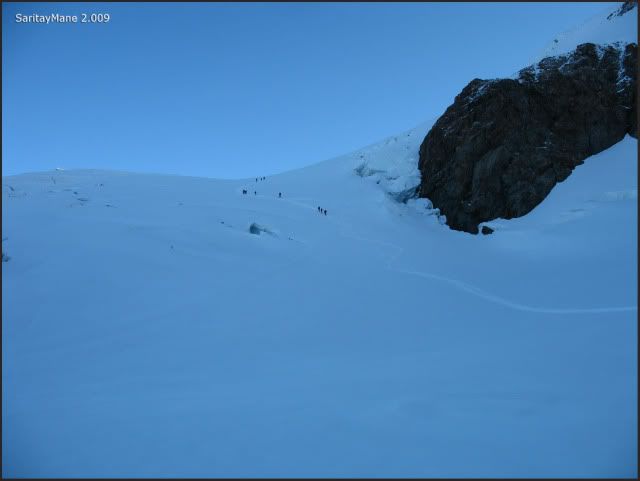 Gran Paradiso, that we did las year.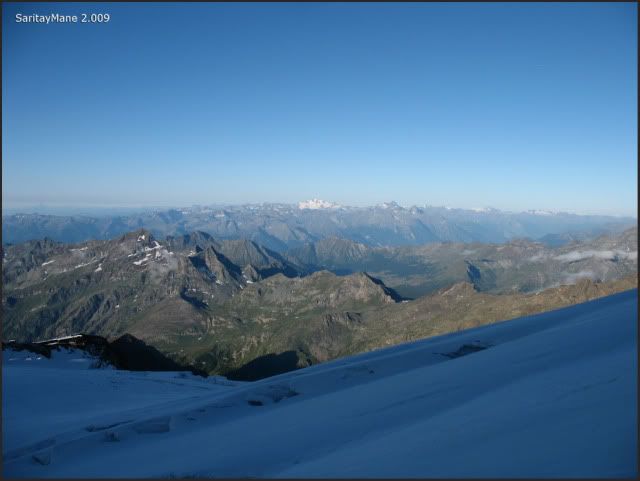 Our three companions ahead.
Earning altitude over the Garstelet Glacier.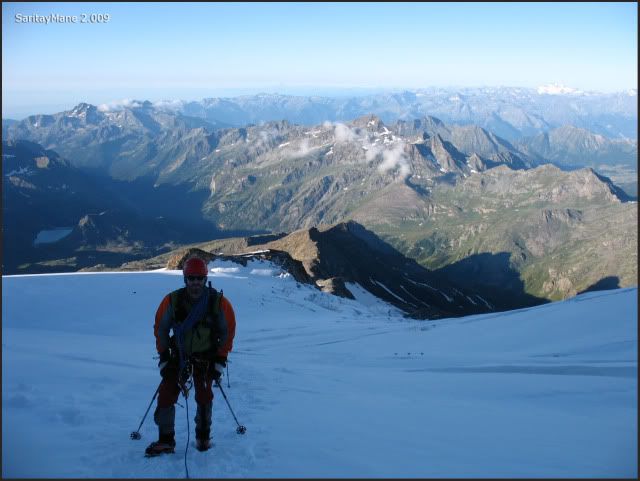 Sorrounding the west side of Vincentpyramide again.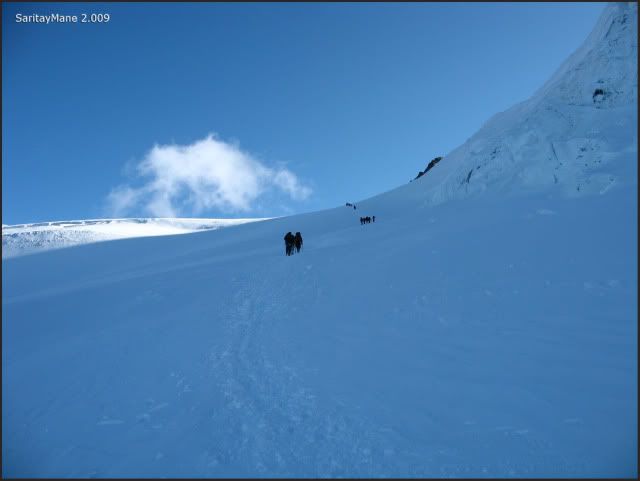 Finally we chase our fellas.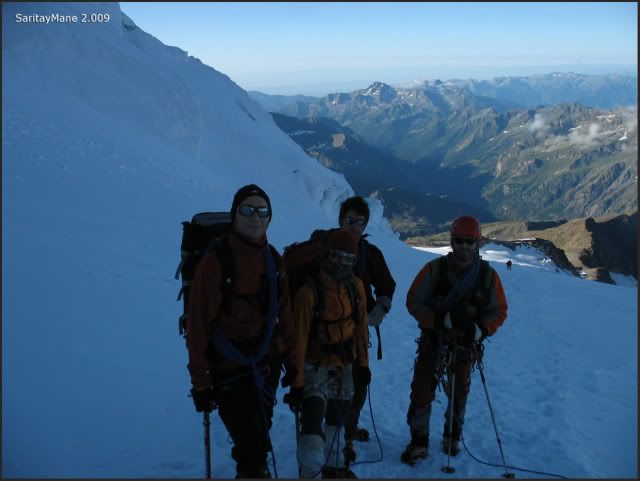 The chopper flyes close to us.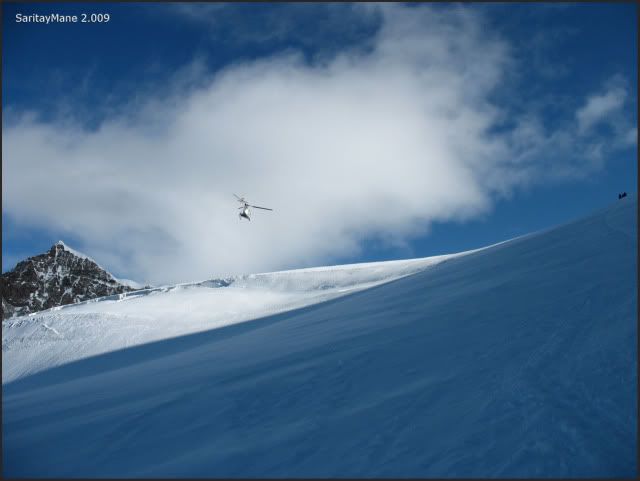 It's colder today than yesterday. So we don't ease up the march towards Lisjoch.
Corno Negro and Balmenhorn when ascending.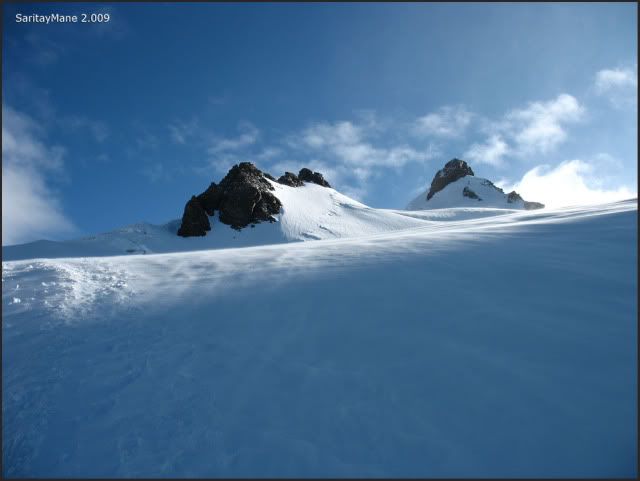 Following the footsteps.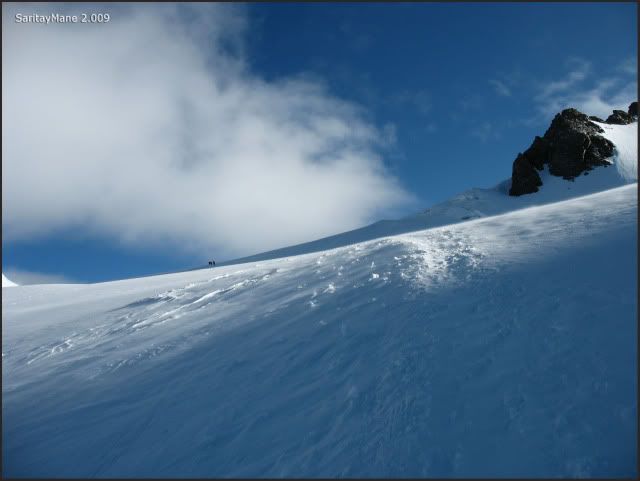 Finally sunbathing.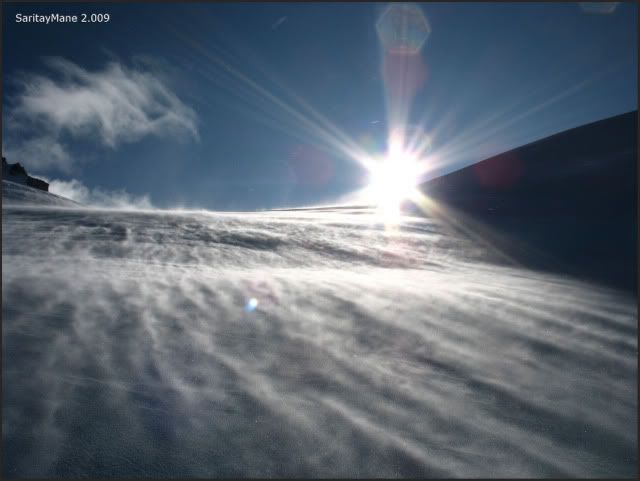 Sun rays allow this picture.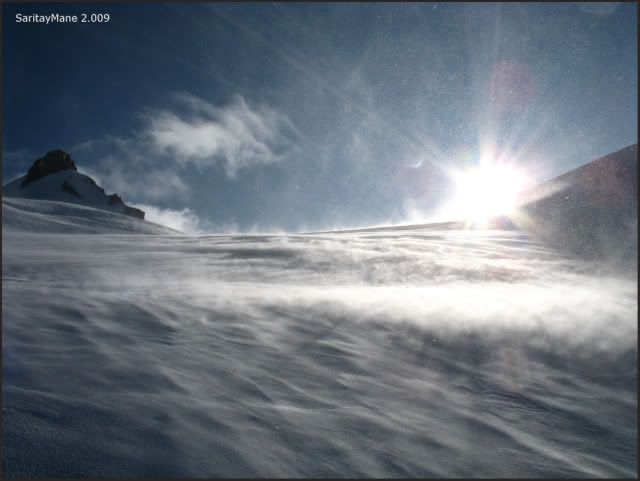 Caused by the recent snowfall.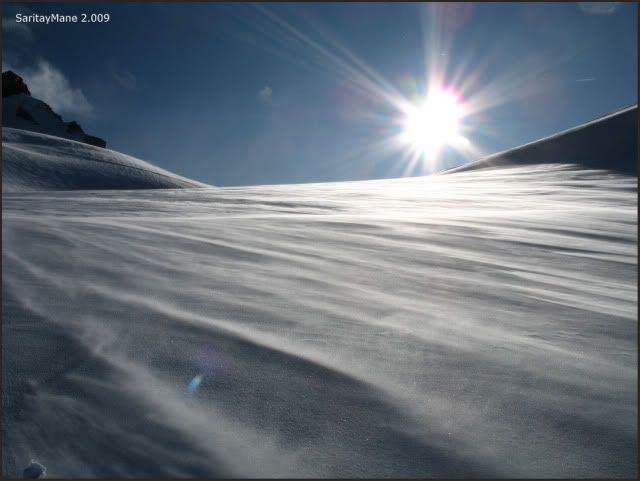 Looking back.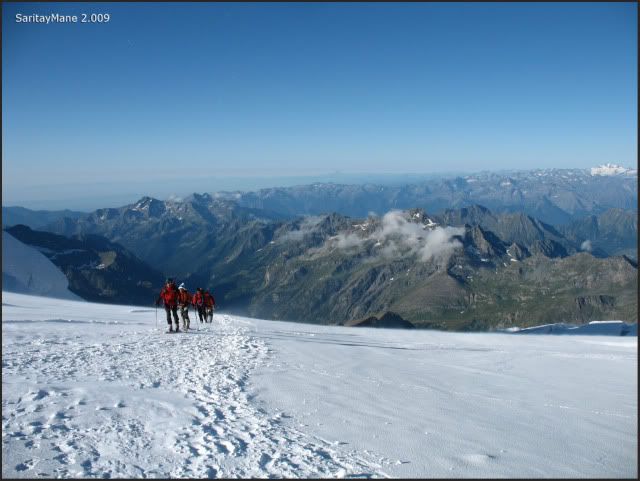 Vincentpyramide, busy place today.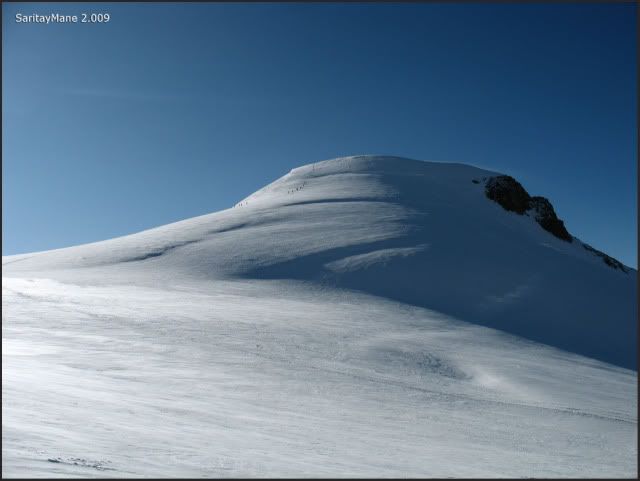 The chopper again.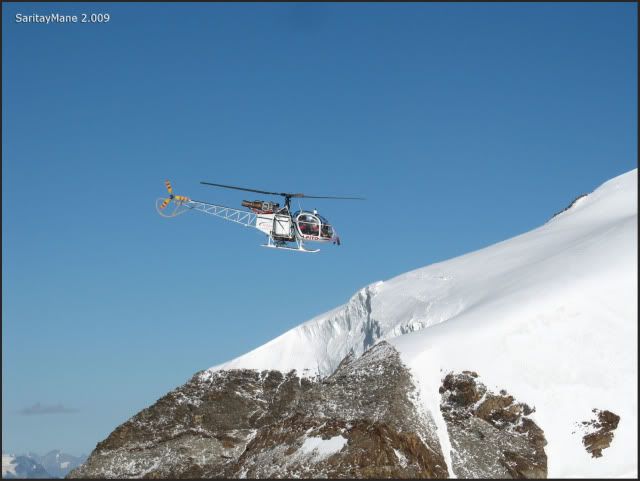 Ascending the Lys Glacier.
We detour towards Colle de Lys instead following the path to Lisjoch. This pass is close to big plateau westwards from Ludwigshöhe.
The way those climbers go.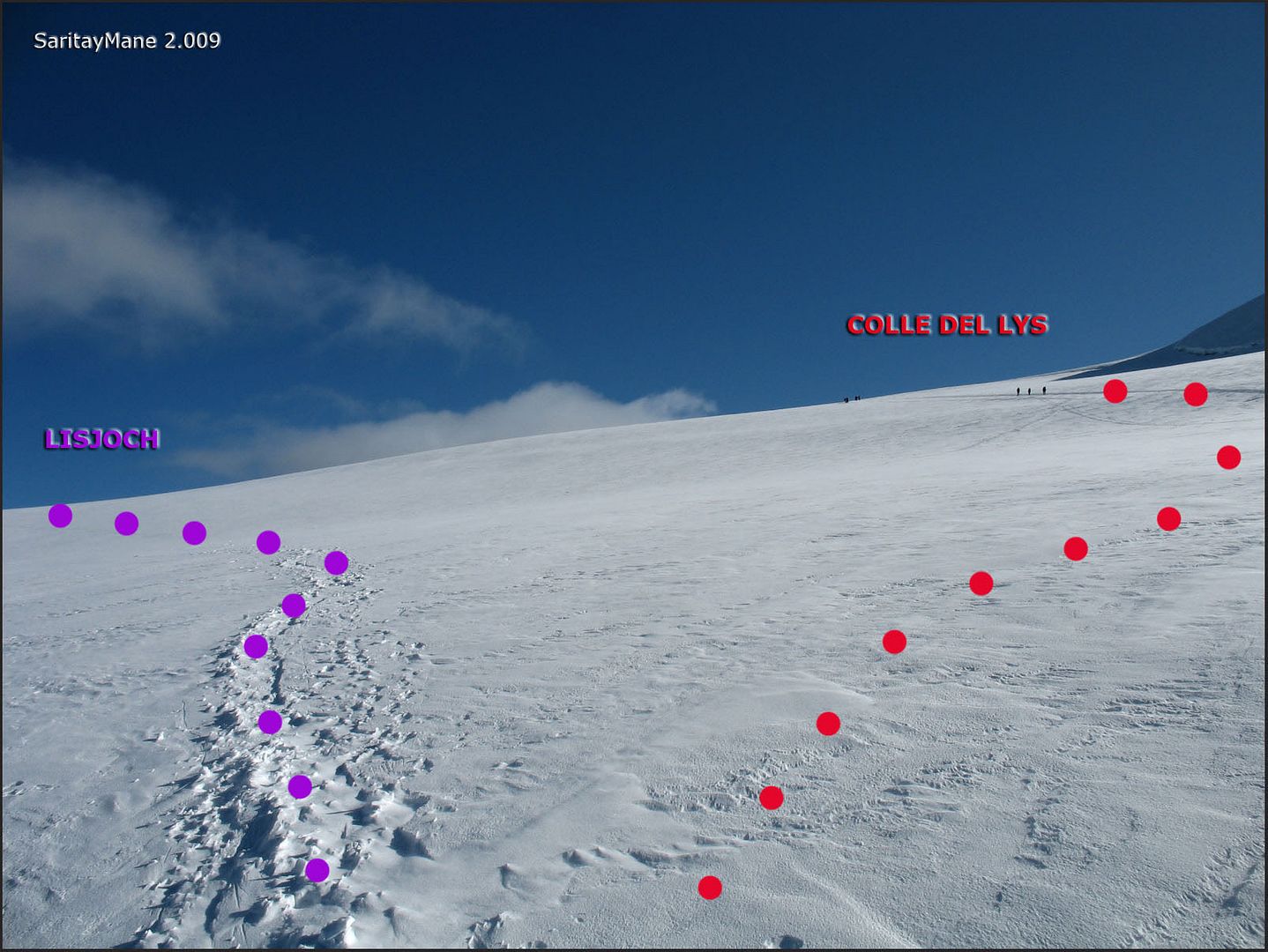 Moving forward with Gran Paradiso on our backs.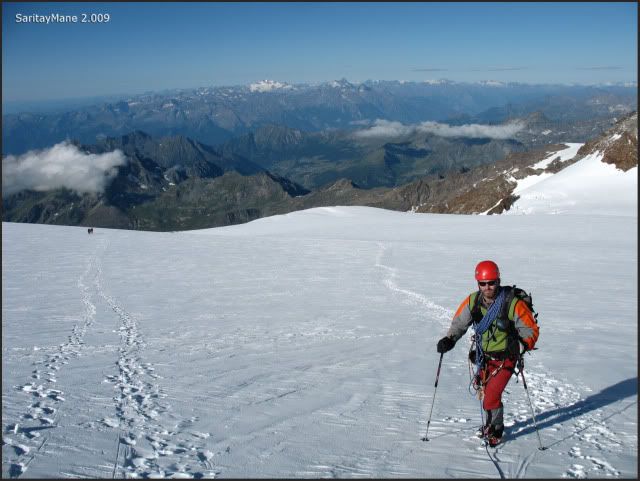 This path seems a highway!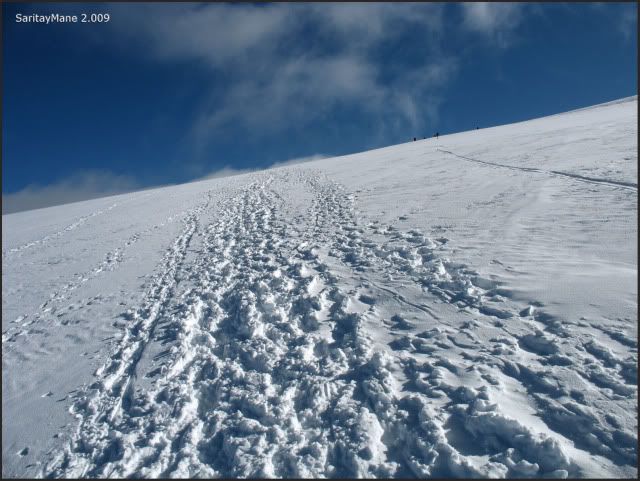 The awesome Lyskamm Ost.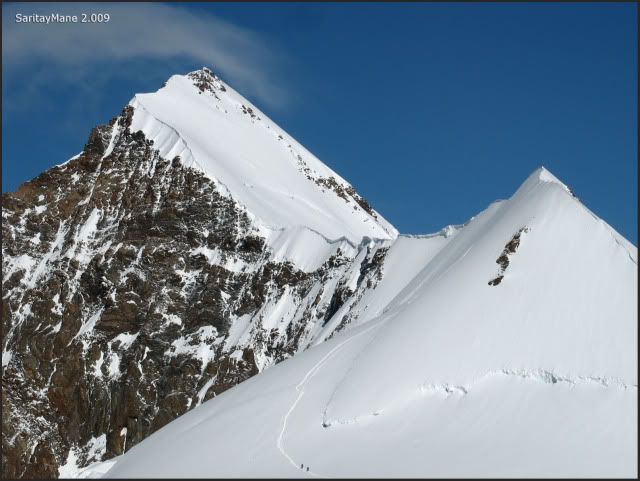 Weisshorn and Dent Blanche.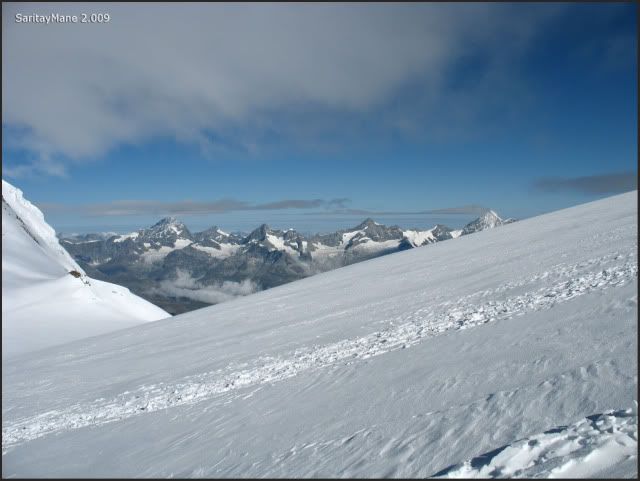 Close to the Colle del Lys.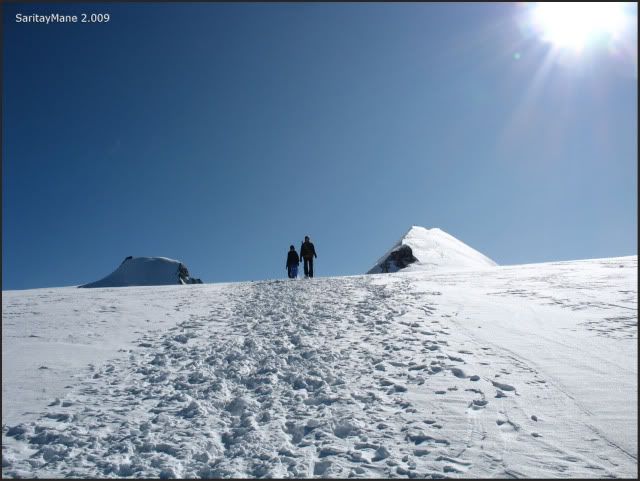 We are almost there...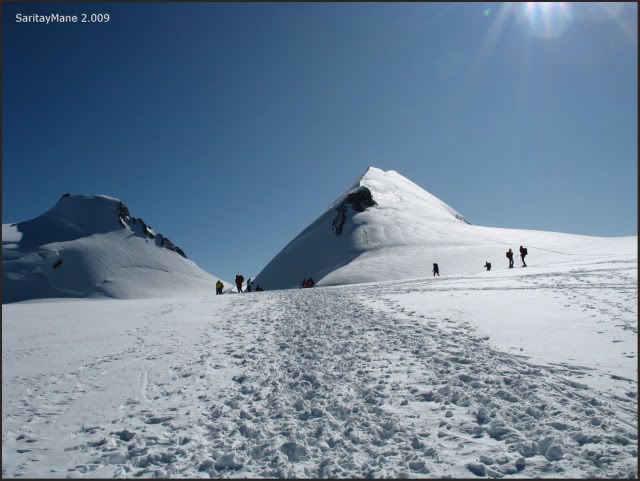 Reaching the Colle del Lys a sort of base camp to reach the surrounding peaks over 4.000 meters (13,123 ft).
From here we can see today's goals, three ones.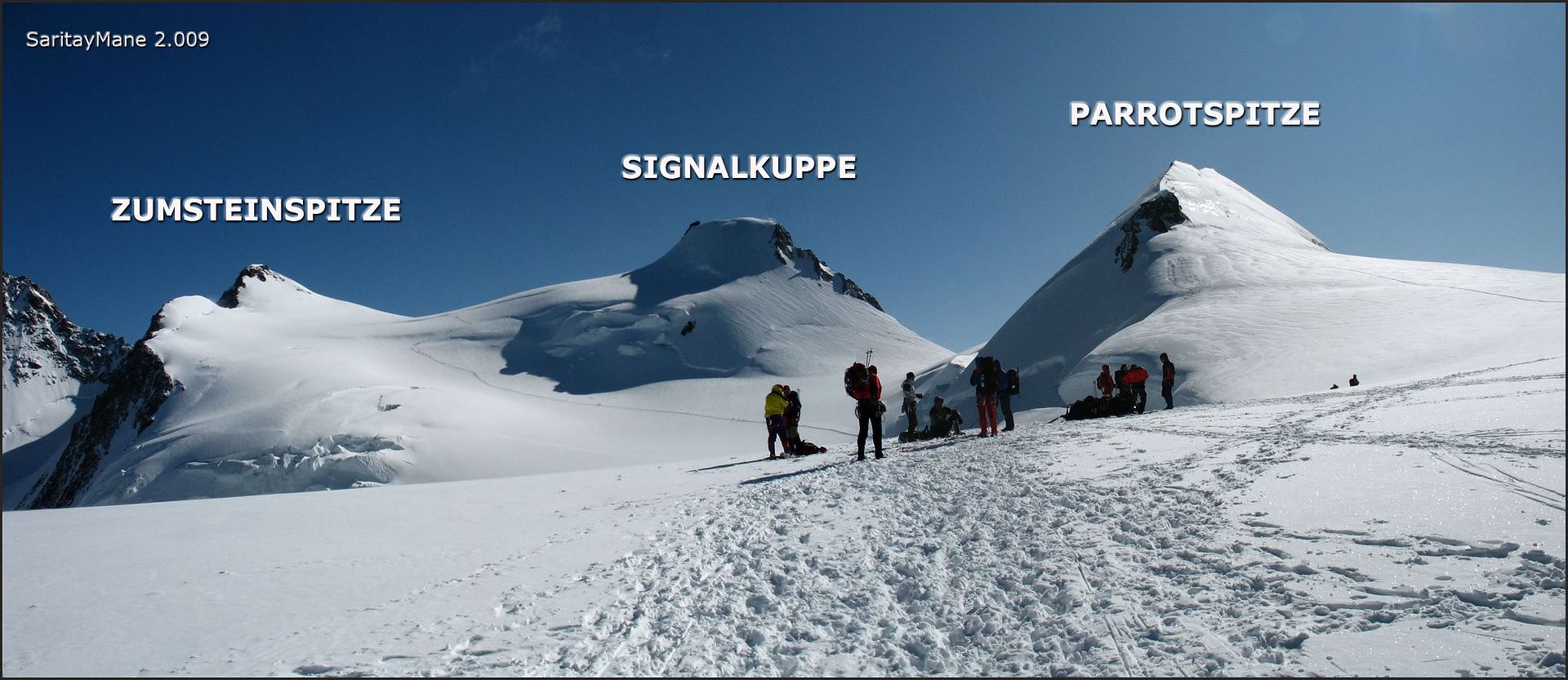 We made a first stop. By that time José Manuel, Eva y Ricardo arrives here... We have a sort chat with them and after that, continue to the Parrotspitze.
Following this way to the summit.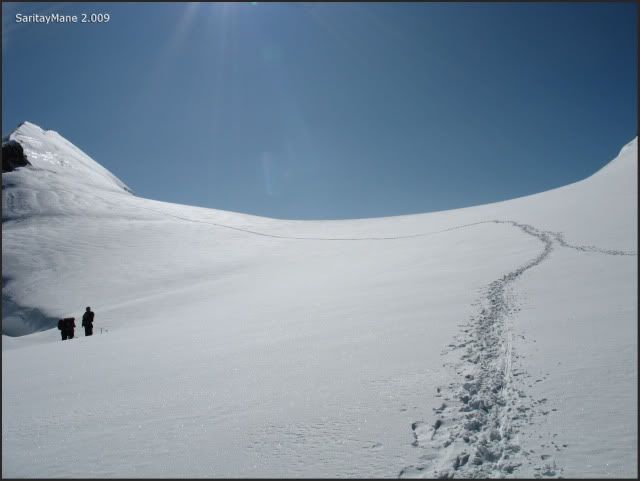 Glancing the Zumsteinspitze and Signalkuppe that we intend to climb as well.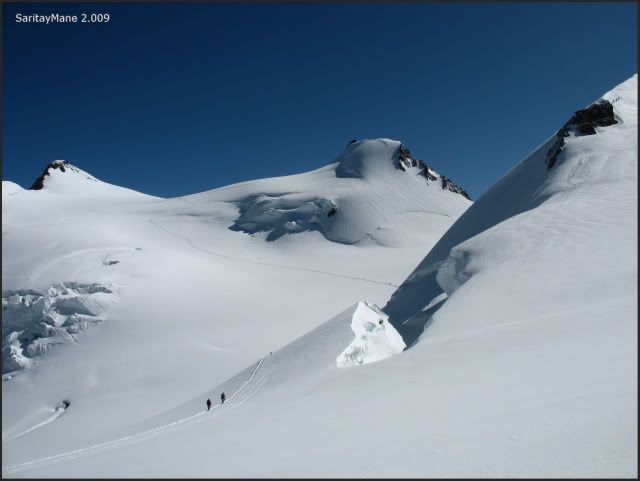 But firstly we go to the Parrotspitze.
Taking a view to Colle del Lys. This is where we come from.

Next to the west crest, the final way to the summit.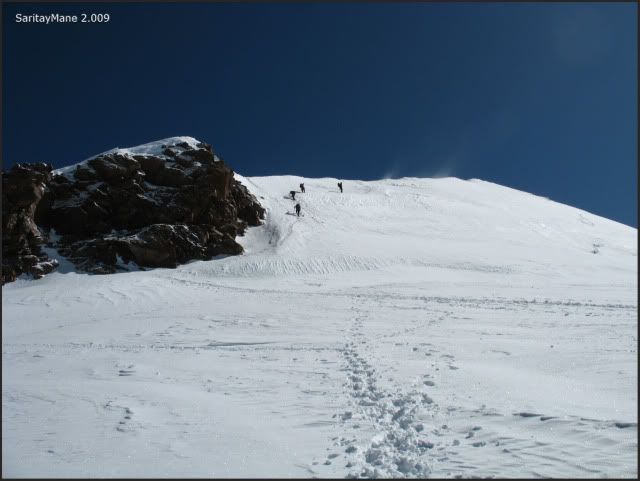 Mont Blanc, Lyskamm and Cervino witnessing our climbing.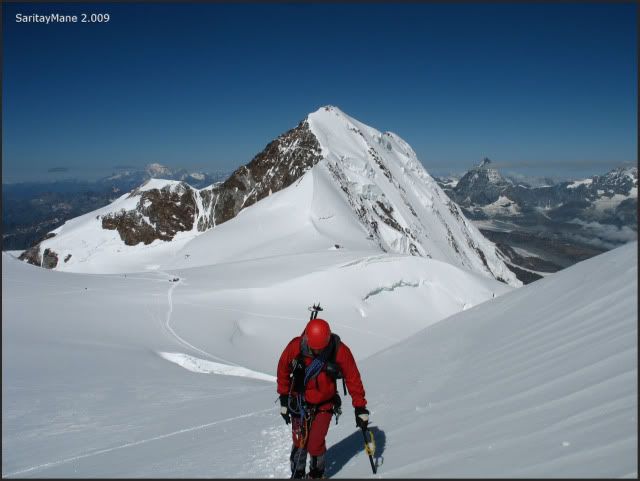 Ludwigshöhe; our friends should be there.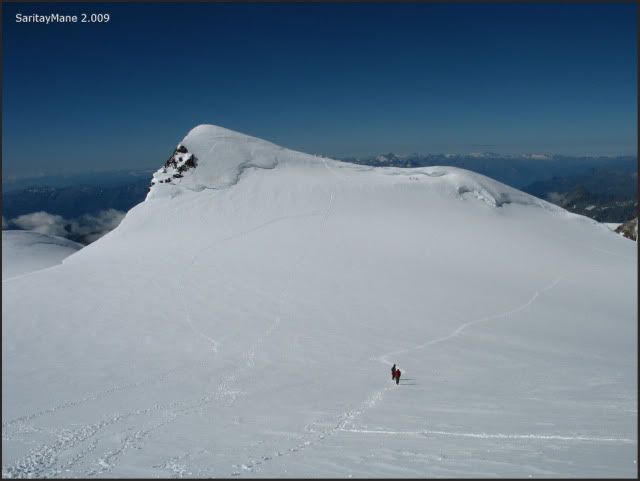 The slope steepens before the crest.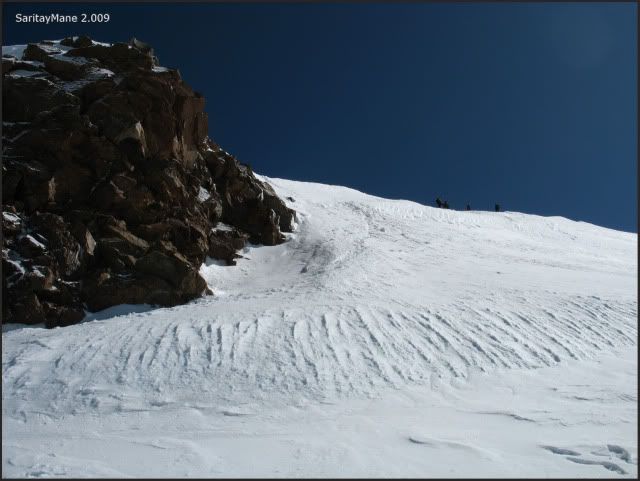 Mane posing unintentionaly.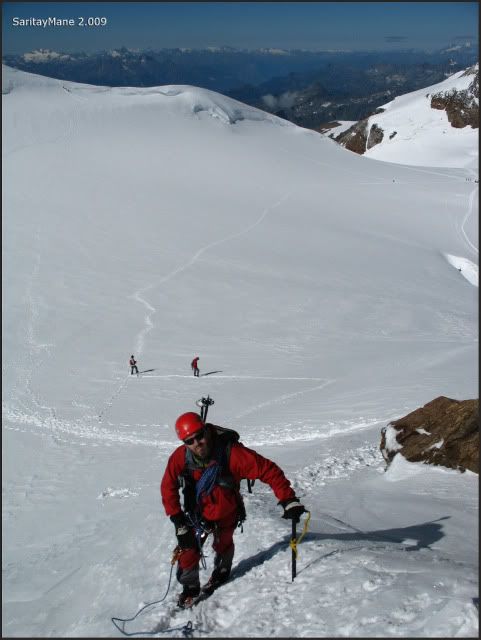 This slope reachs 45º degrees. But soft snows makes it safer.

Hollow footsteps.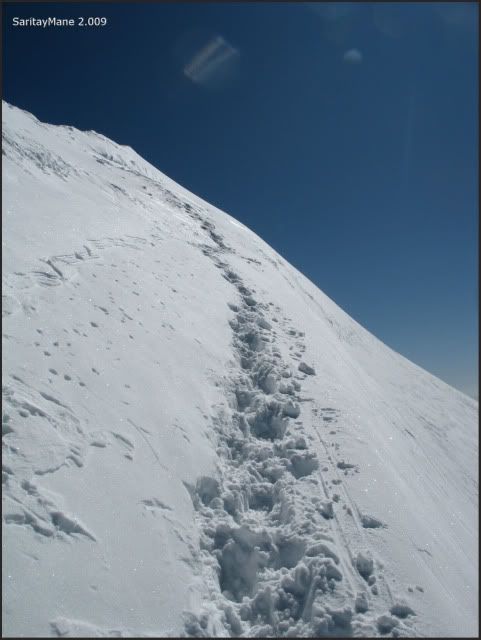 Almost at the summit.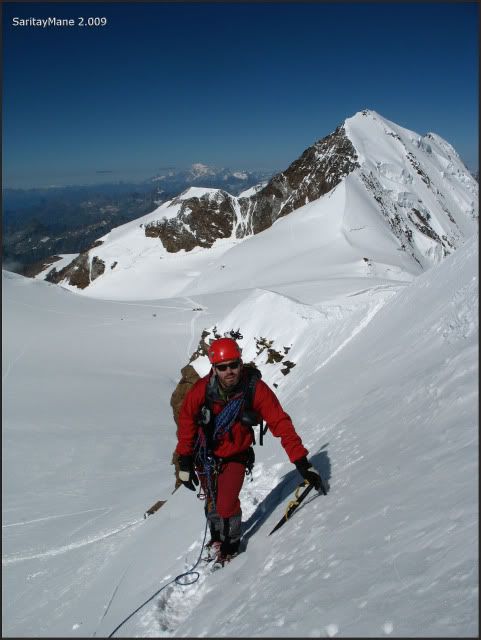 Reaching the crest to access the summit, it frights a bit...
First steps over the crest.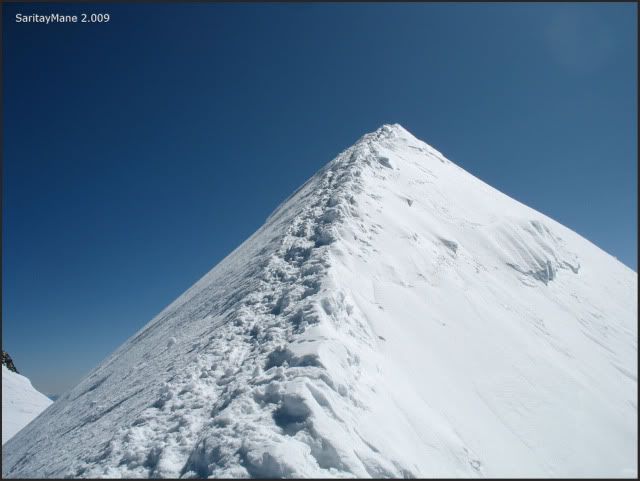 From here we can distinguish the Capanna Margherita Hut on Signalkuppe's Summit.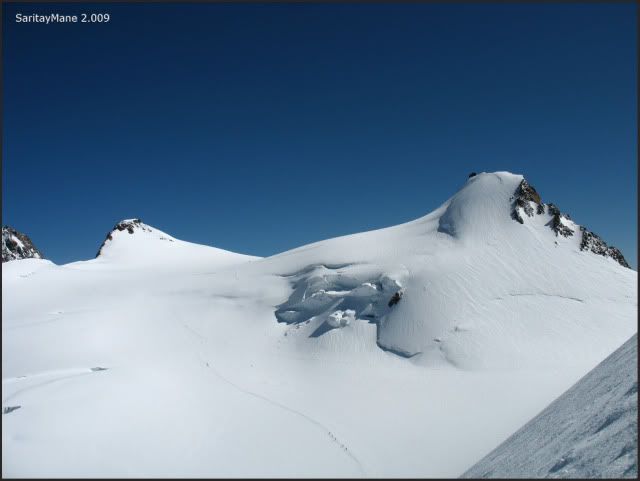 Dufourspitze backwards Zumsteinspitze.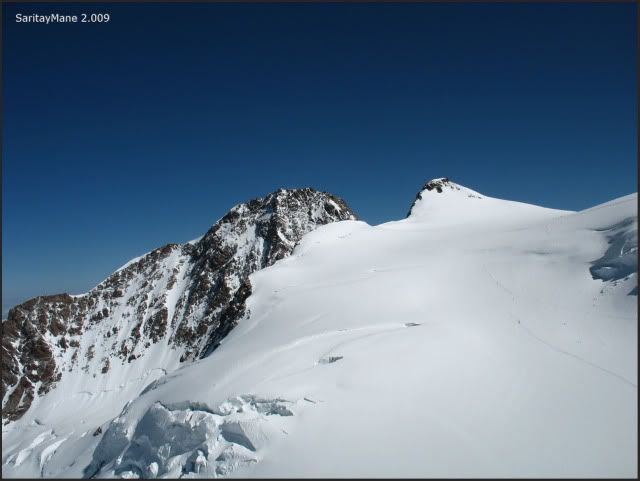 The crest sharpens.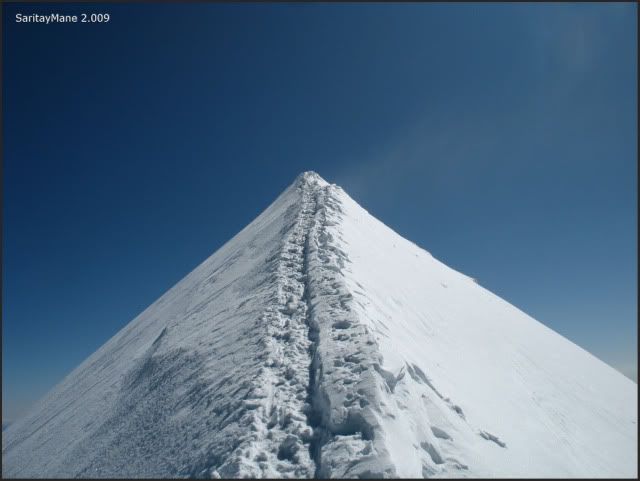 Towards our first summit.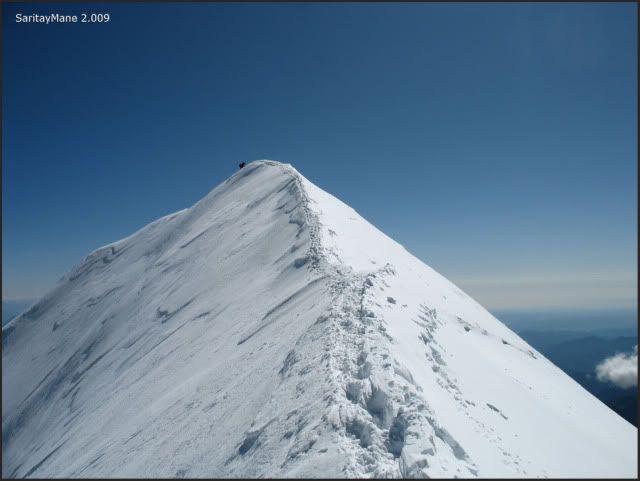 Last steps, where this widens.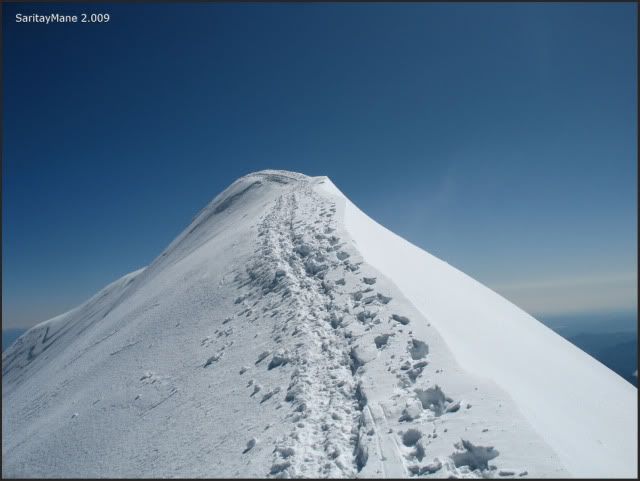 Reaching the summit.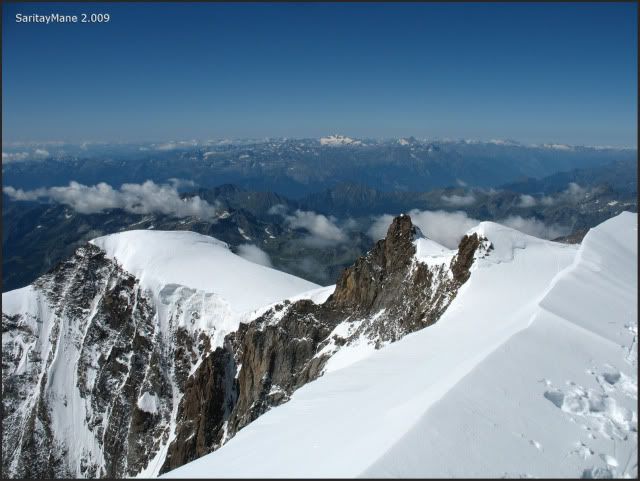 Parrotspitze's Summit (4.436 m – 14,553 ft).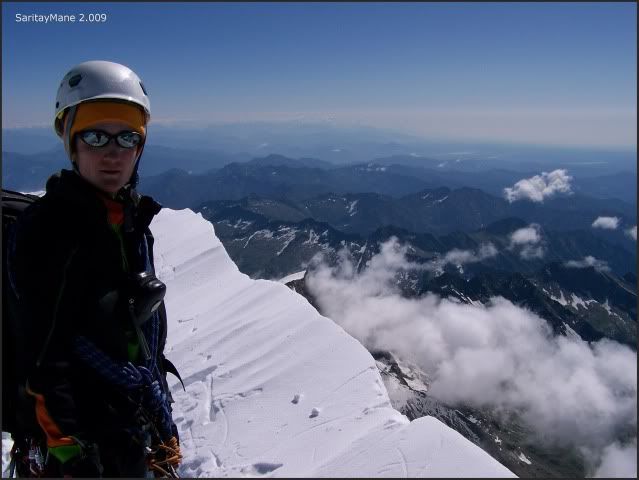 We don't spend too much time on the summit, so we take some pictures and turn back to move.
Punta Gnifetti or Signalkuppe with Capanna Margherita and Zumsteinspitze.
Pointe Dufour, maybe next year...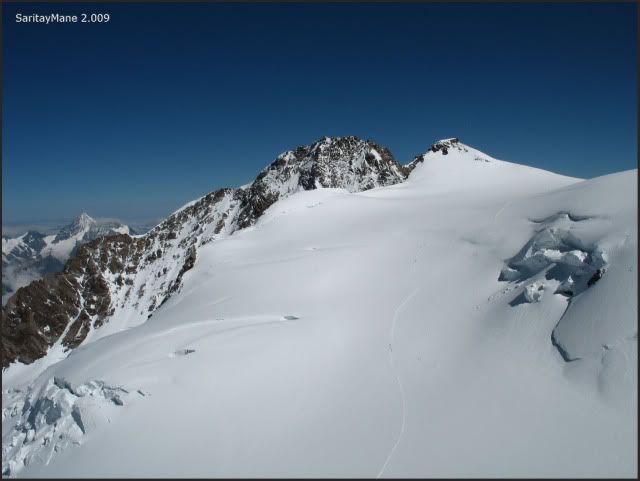 A view to the Grenz Glacier.
Dent Blanche a bit closer.
That peak seems familiar...
Seems busy in Ludwigshöhe y Corno Nero.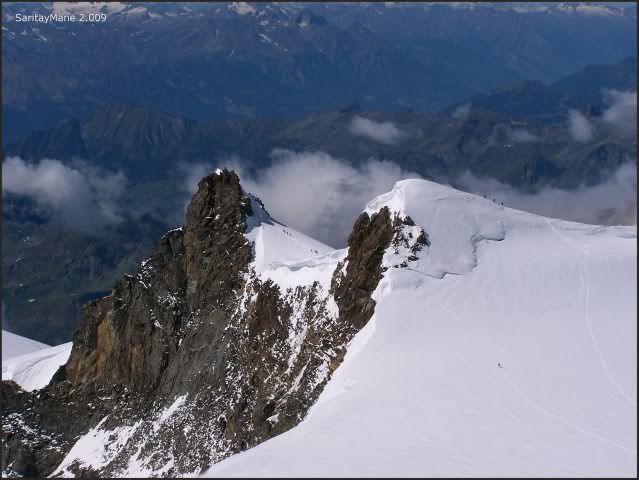 Next to VINCENTPYRAMIDE, that we climbed yesterday.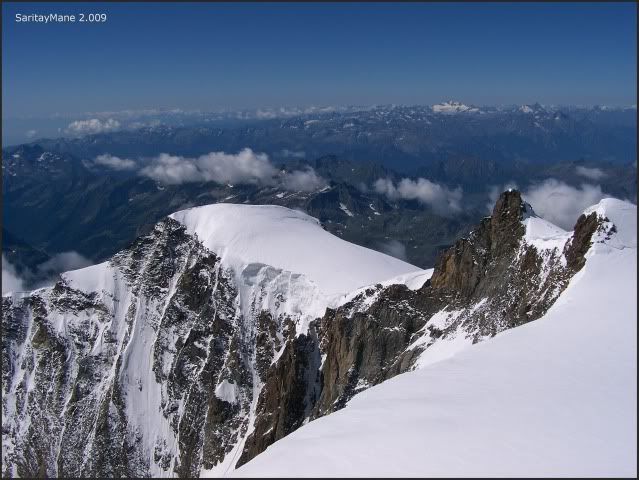 His rough West Face.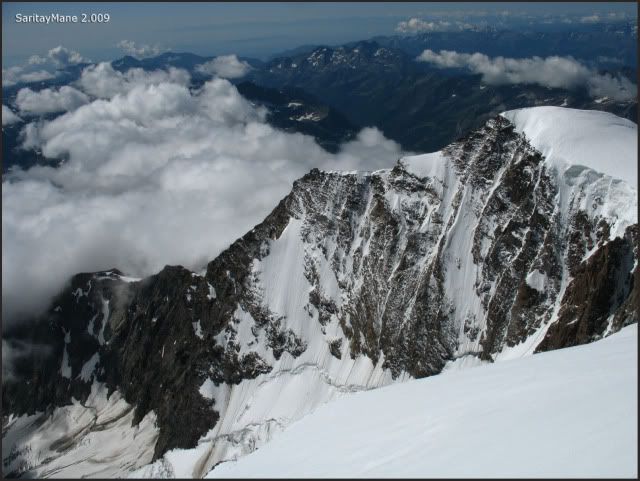 Against the greeness of the valley.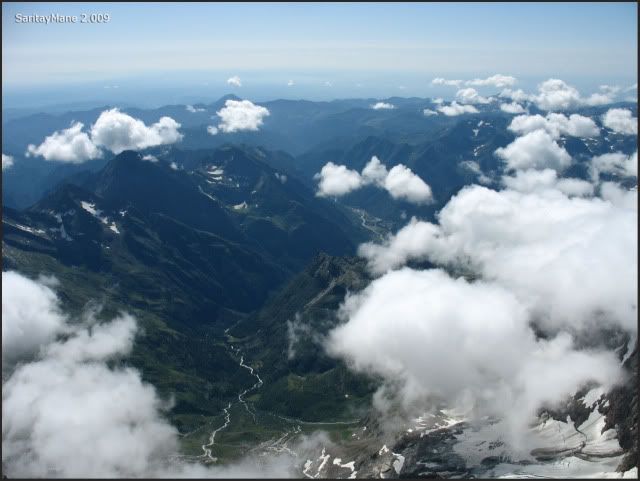 If we followed the North-East Crest we would arrive to the very pass Colle Sesia. We don't see it clear, but probably is as easy as this way. But instead we get back even though we've got a longer distance this way.
Although there are footsteps that way.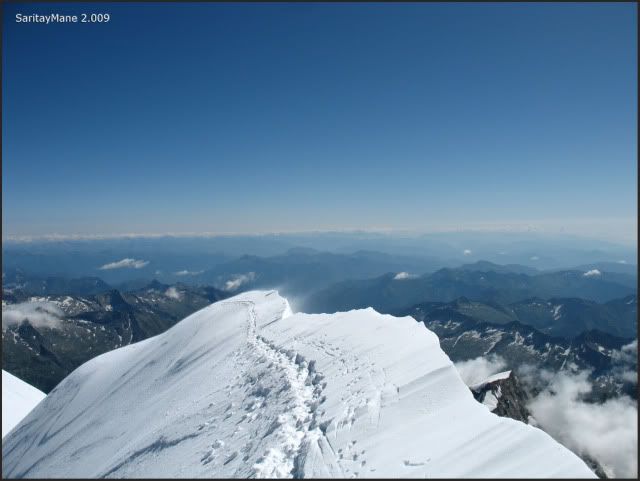 So we get back on our feet over the West Crest.
Give way, please.
While enjoying the view.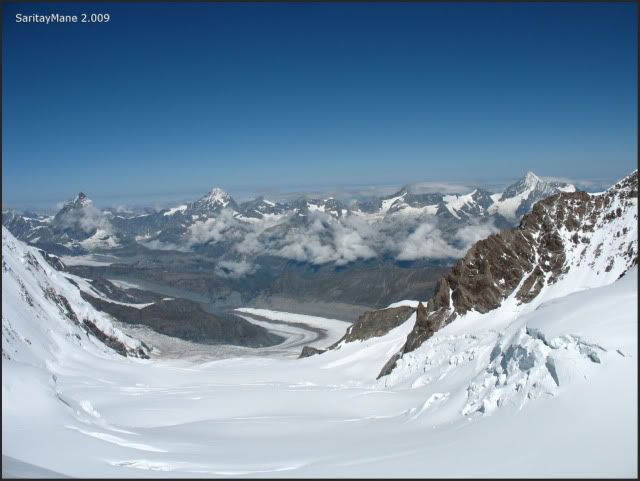 A few metres down we meet othe group of spaniards that are resting in Margherita as well.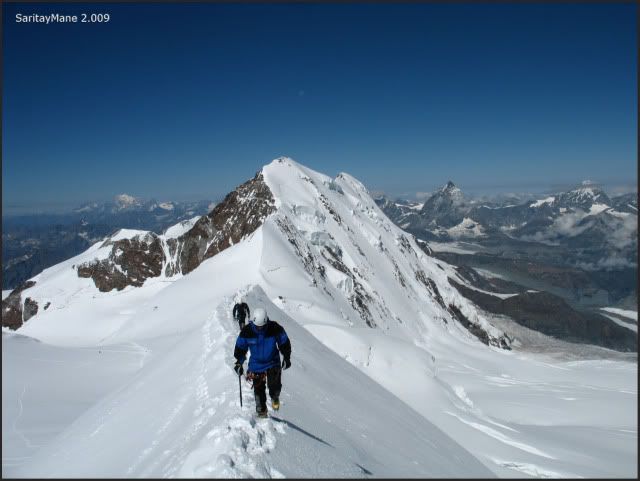 The crest sharpens again .
Soon we reach the crest's end.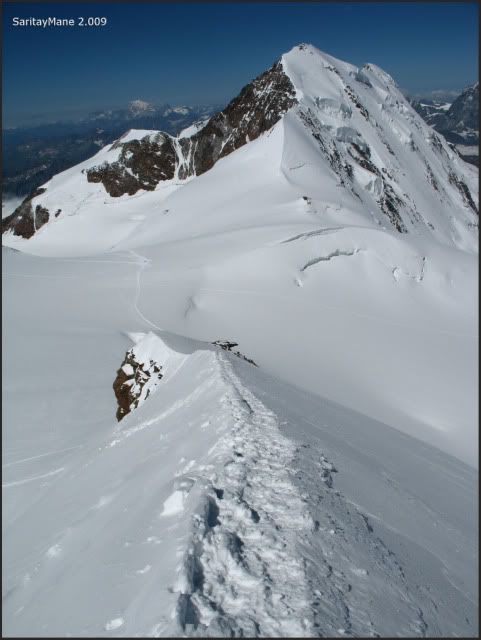 No more difficults by now.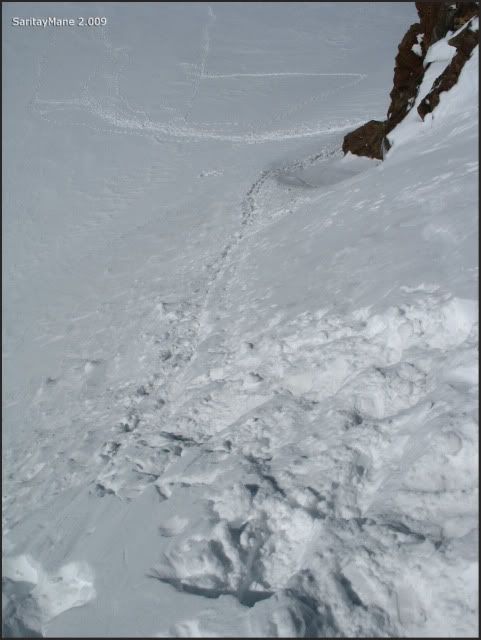 Taking a look back.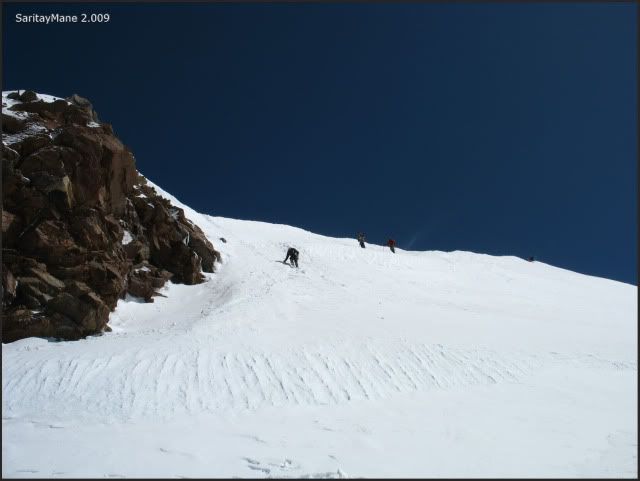 Moving forward to Colle del Lys again. From there we'll go to Zumsteinspitze and Signalkuppe.
Following this path.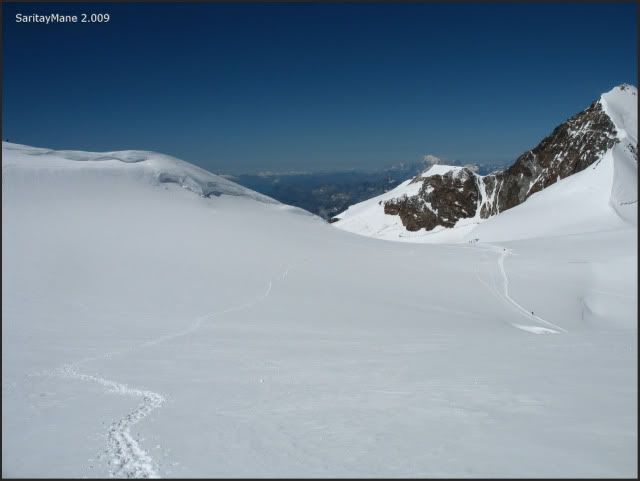 A last glance at the Parrotspitze.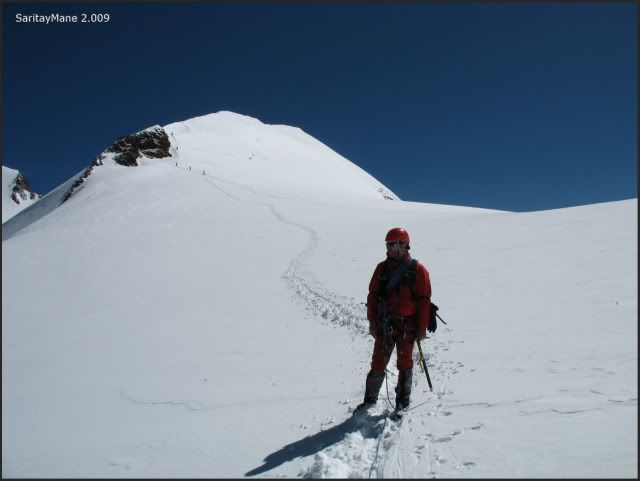 Close to the Colle del Lys.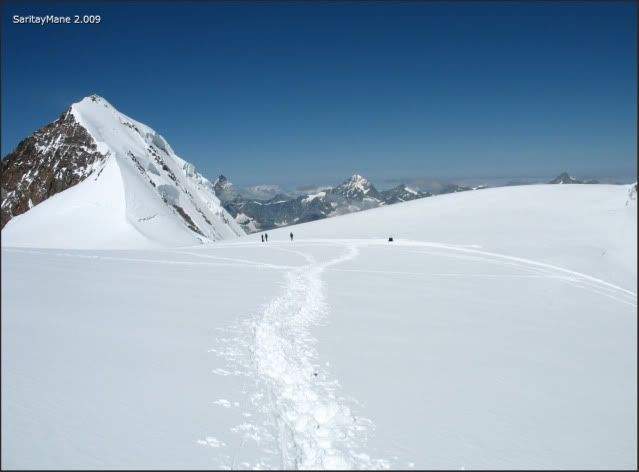 Seeing the way to Zumsteinspitze and Signalkuppe.

Following the footprints.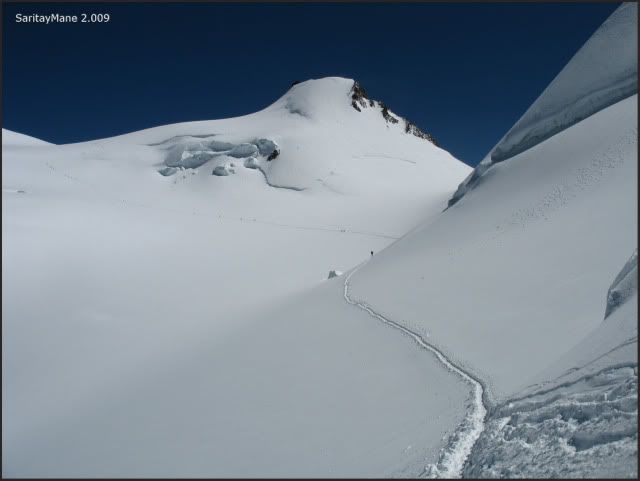 Looking westwards.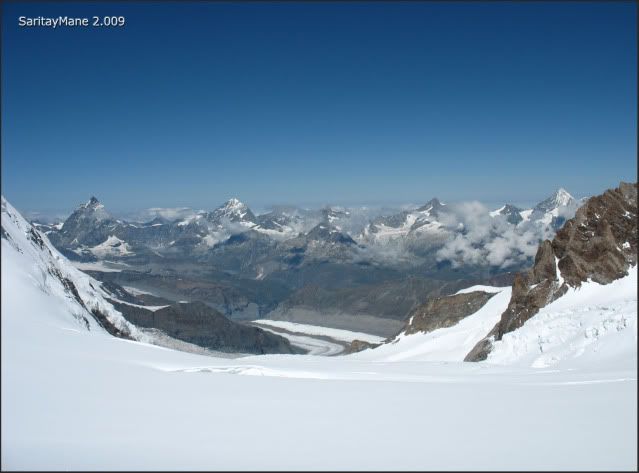 The way that remains.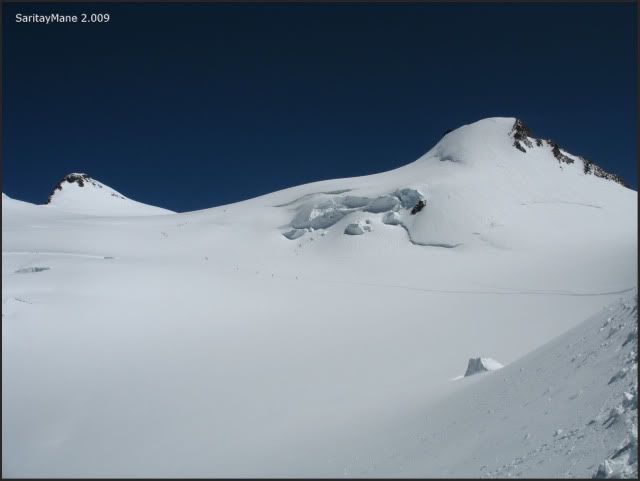 Impossible to miss the way.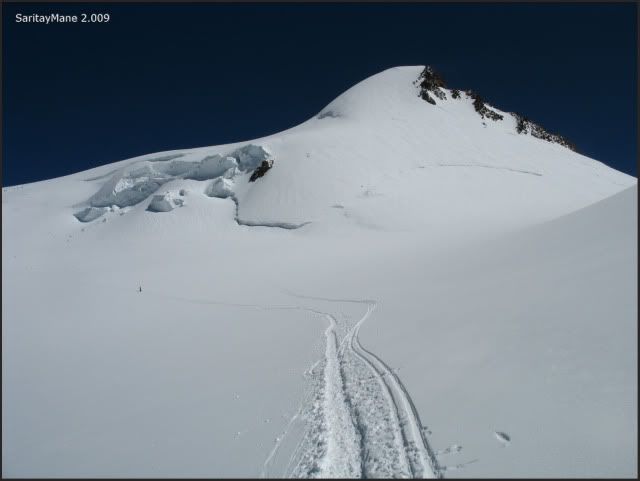 Beautiful North Face of Lyskamm.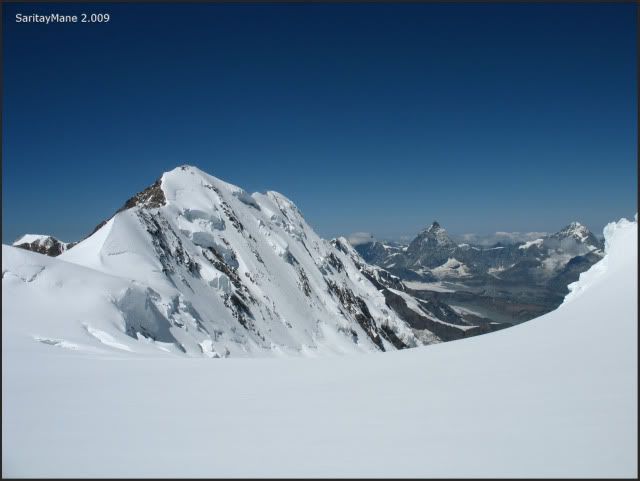 Zumsteinspitze on our face.
Passing through these Signalkuppe's seracs.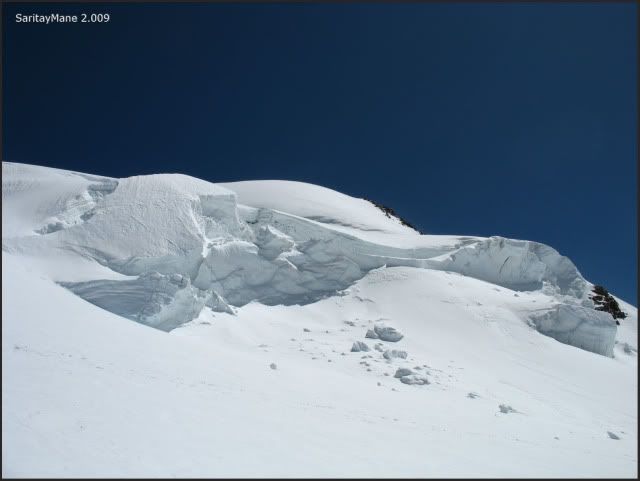 We take a break again a few meters up; a piece of chocolate tastes really good.

Although it's getting hot, snow mirrors summer sun rays over 4.400 metres (14,435 ft). Altitude illness begin to harm.
By now we can see Capanna Margherita.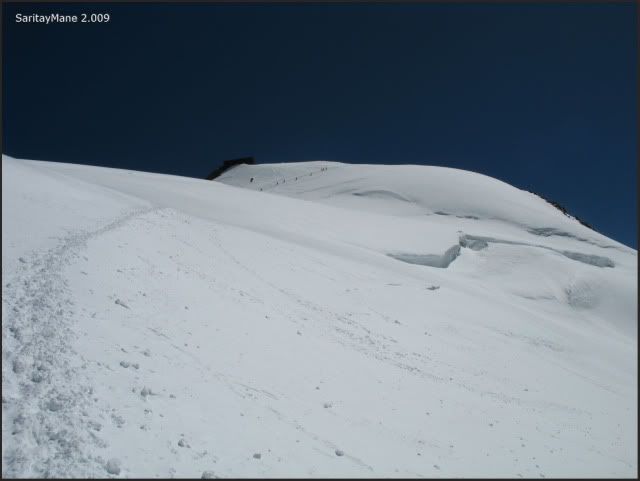 Mane posing with Lyskamm.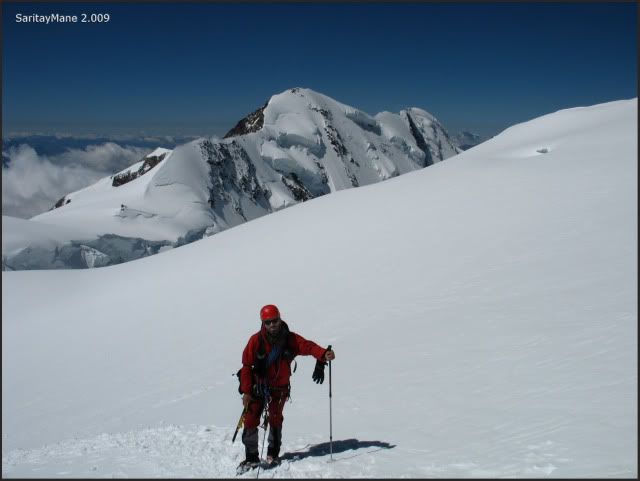 Ascending towards the Zumsteinspitze.
Here we are on the plateau between Zumsteinspitze and Signalkuppe. This is the detour to get either Cappanna or the Zumstein itself.
The path to Capanna Margherita.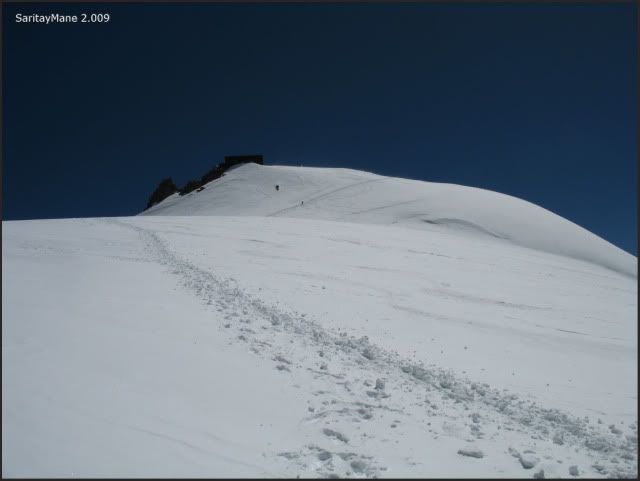 And the path Zumstein on the other hand.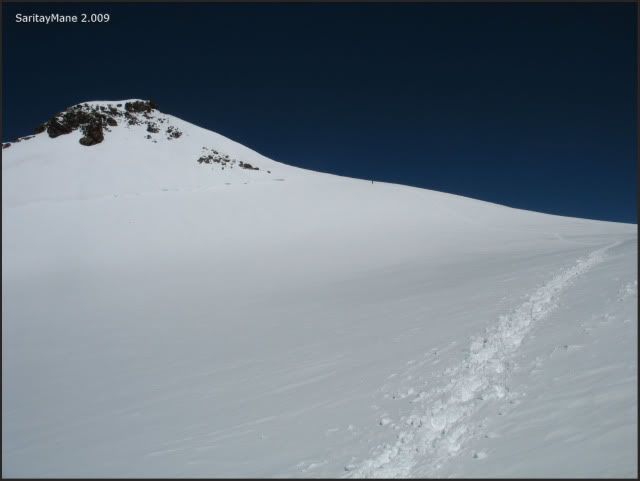 Taking a look back again.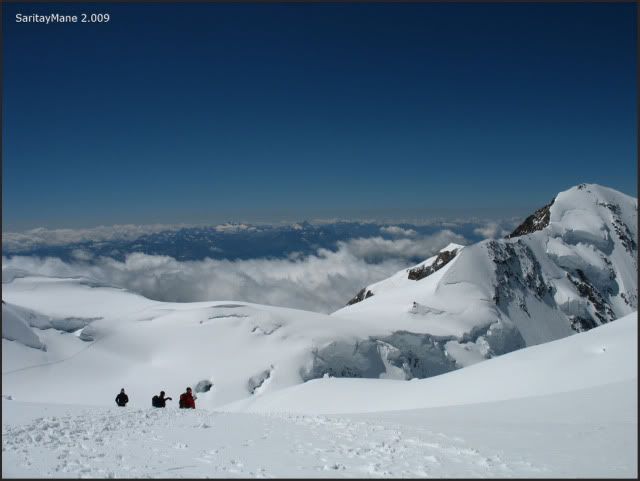 The clouded sea at our feet.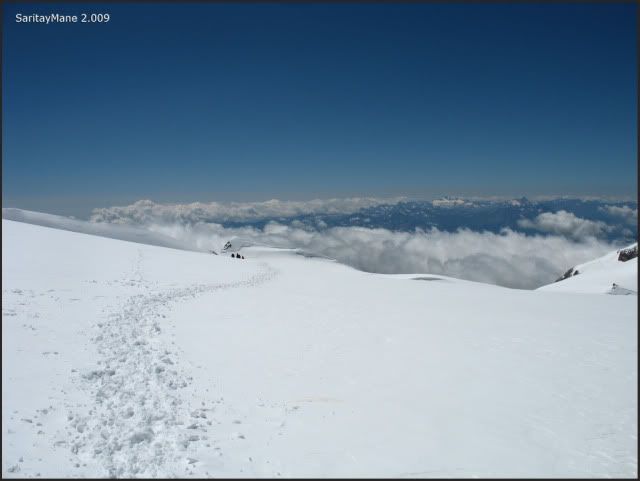 We leave the rope and the backpacks to climb more comfortably to the summit.
Zumstein's Summit closer every step.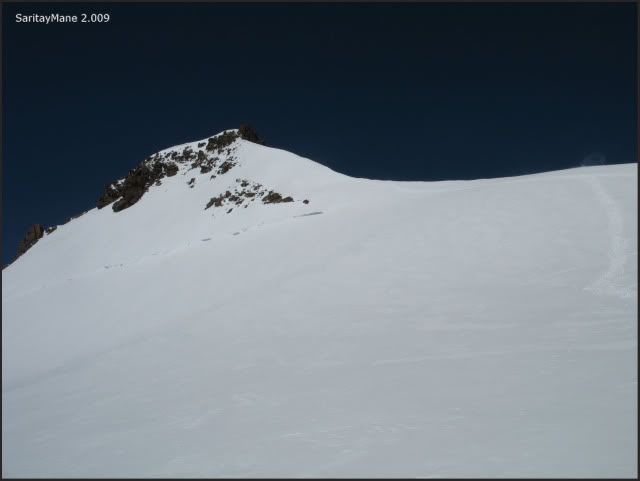 Signalkuppe seems busy as well.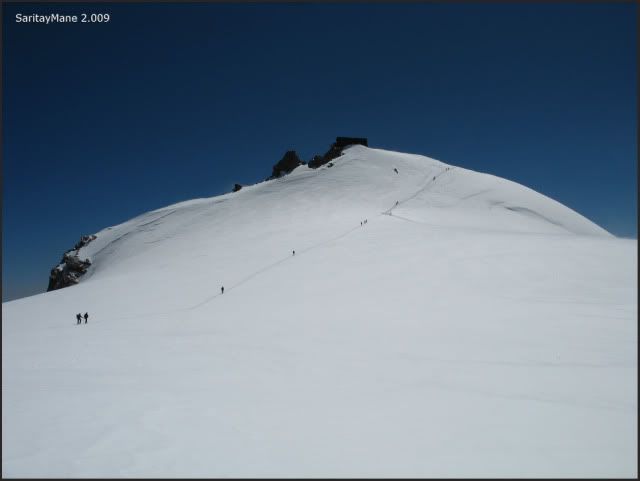 While we begin moving.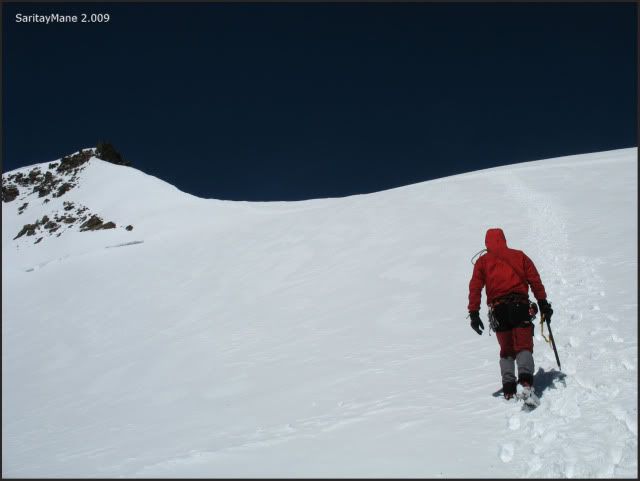 Towards the snow crest before the short rock climb.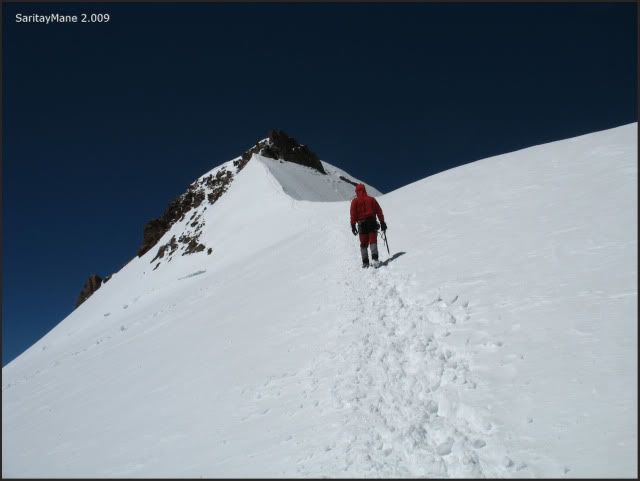 A group of climbers on our backs.
Towards the summit.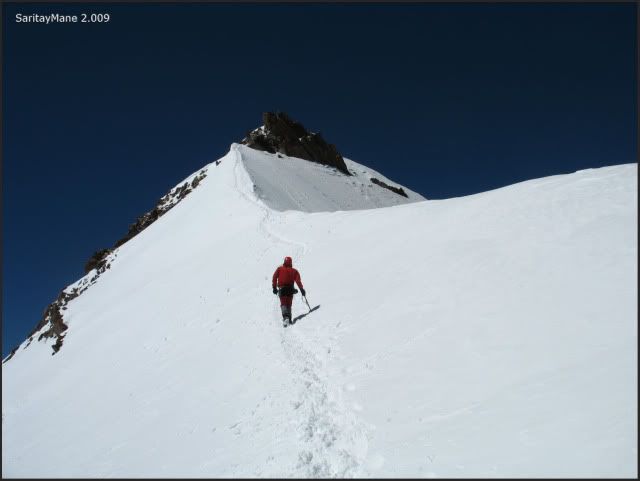 Over the crest.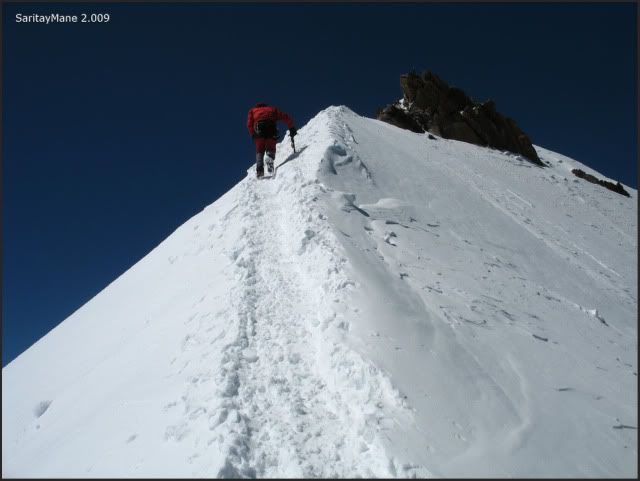 The Nordend northwards.
Mane has already arrive on the short rock climbing.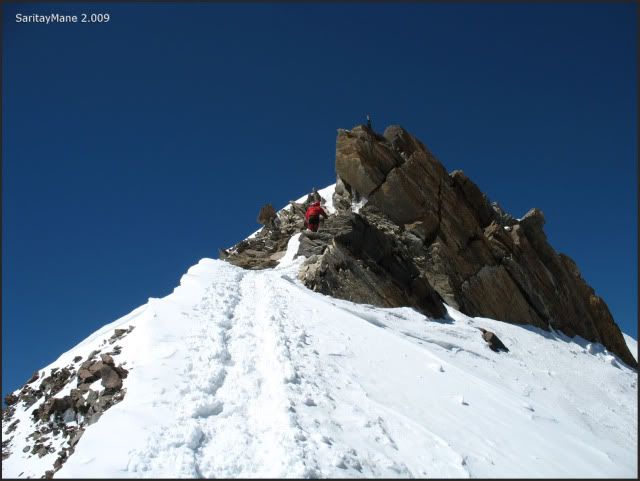 This is the entire crest.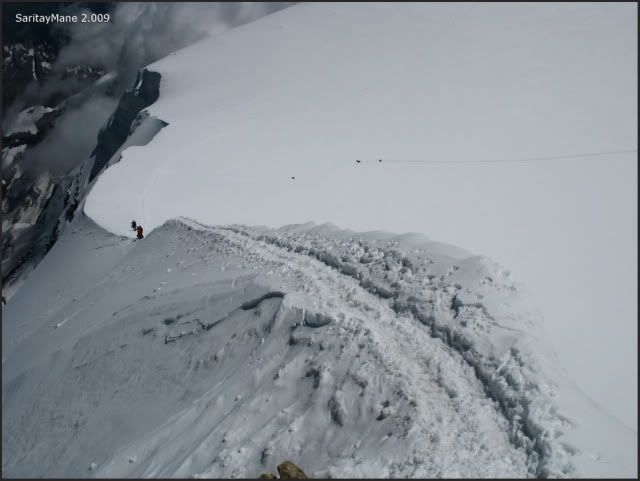 Passing through the climb.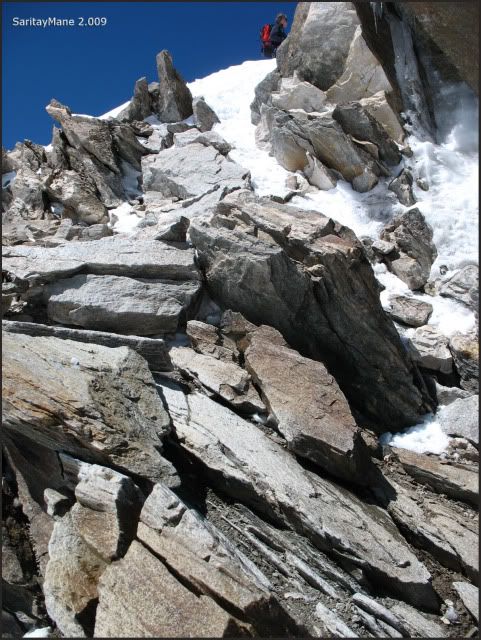 What about descending?...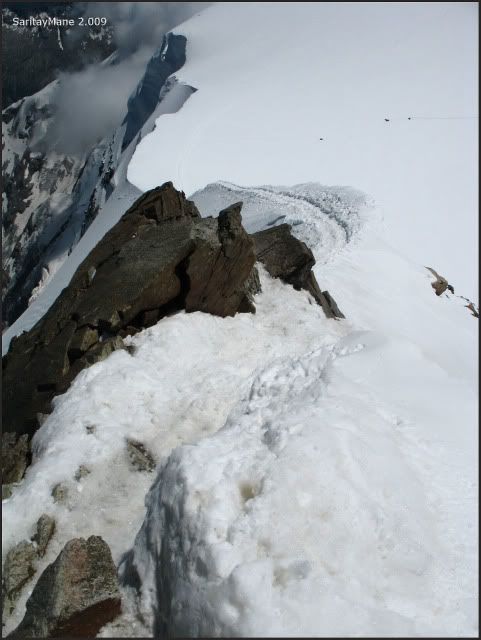 To the summit.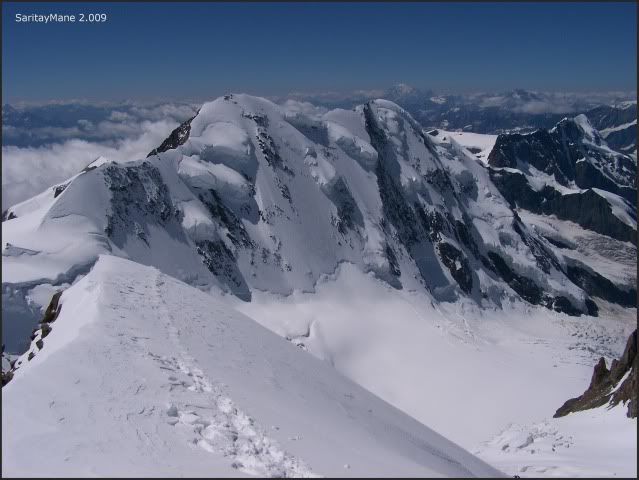 Feel astonished here...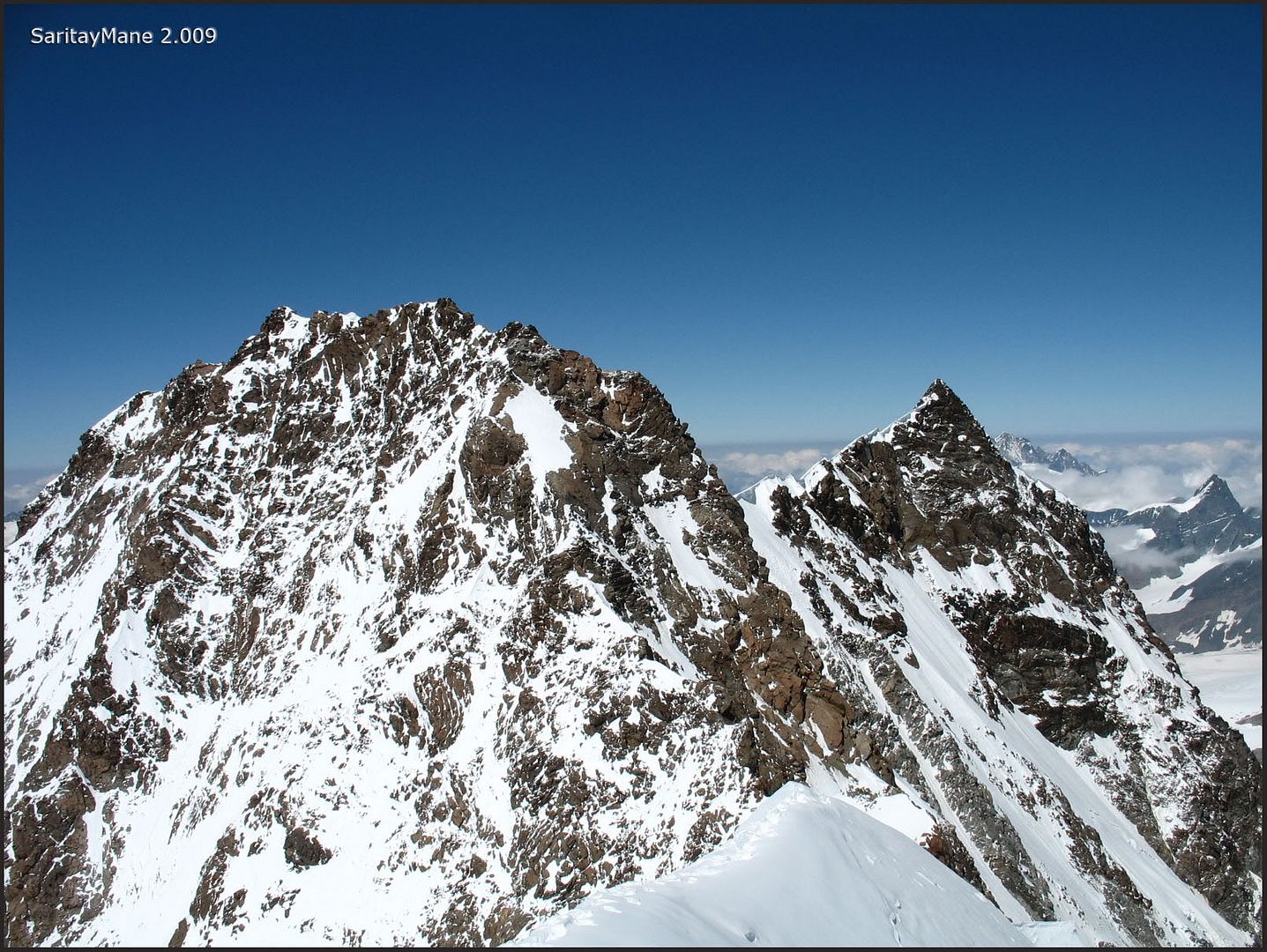 Up here we meet a pair of climbers that consist on a father and a son. We chat them and gather some information about the Dufour Crest.
Zumsteinspitze's Summit (4.563 m – 14,970 ft).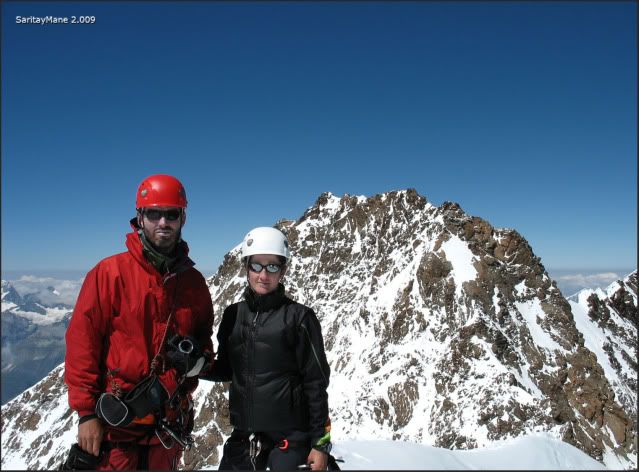 Posing with the Cervino!!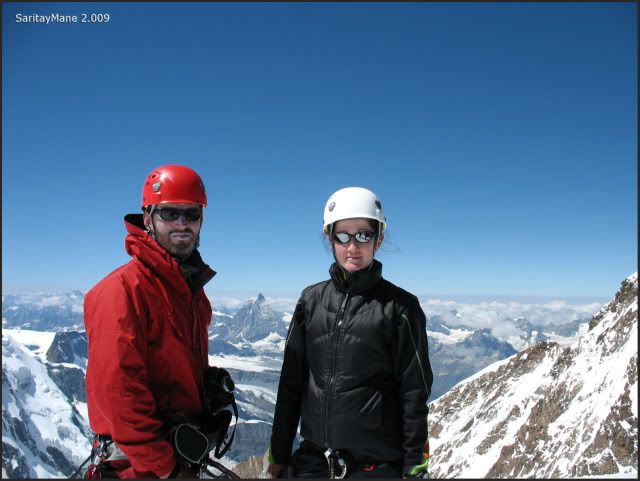 It's a splendid sunny day.
This view is really impressive!
Identifying some peaks.

Dufourspitze and Nordend.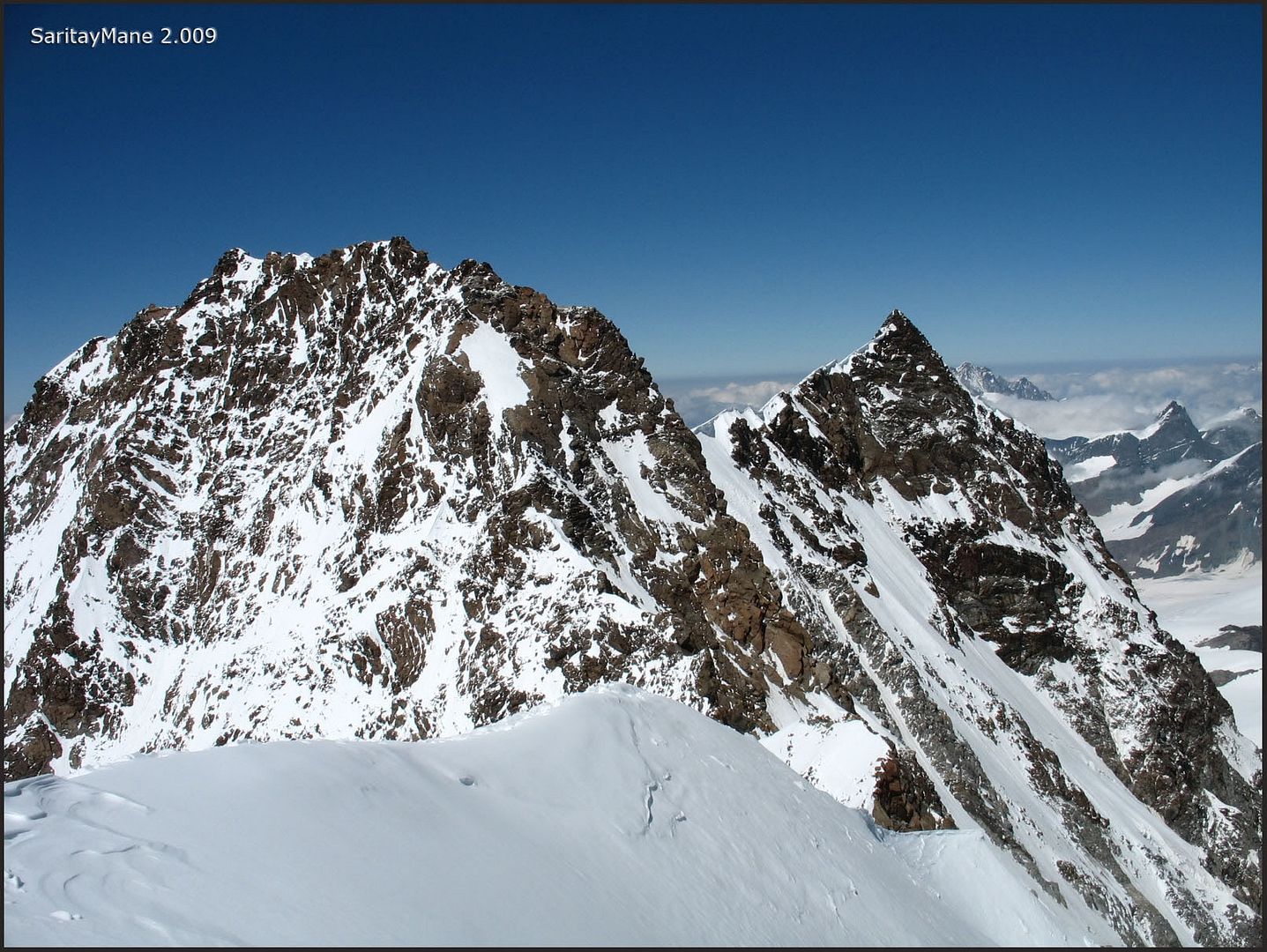 Zooming at Dufour's Crest...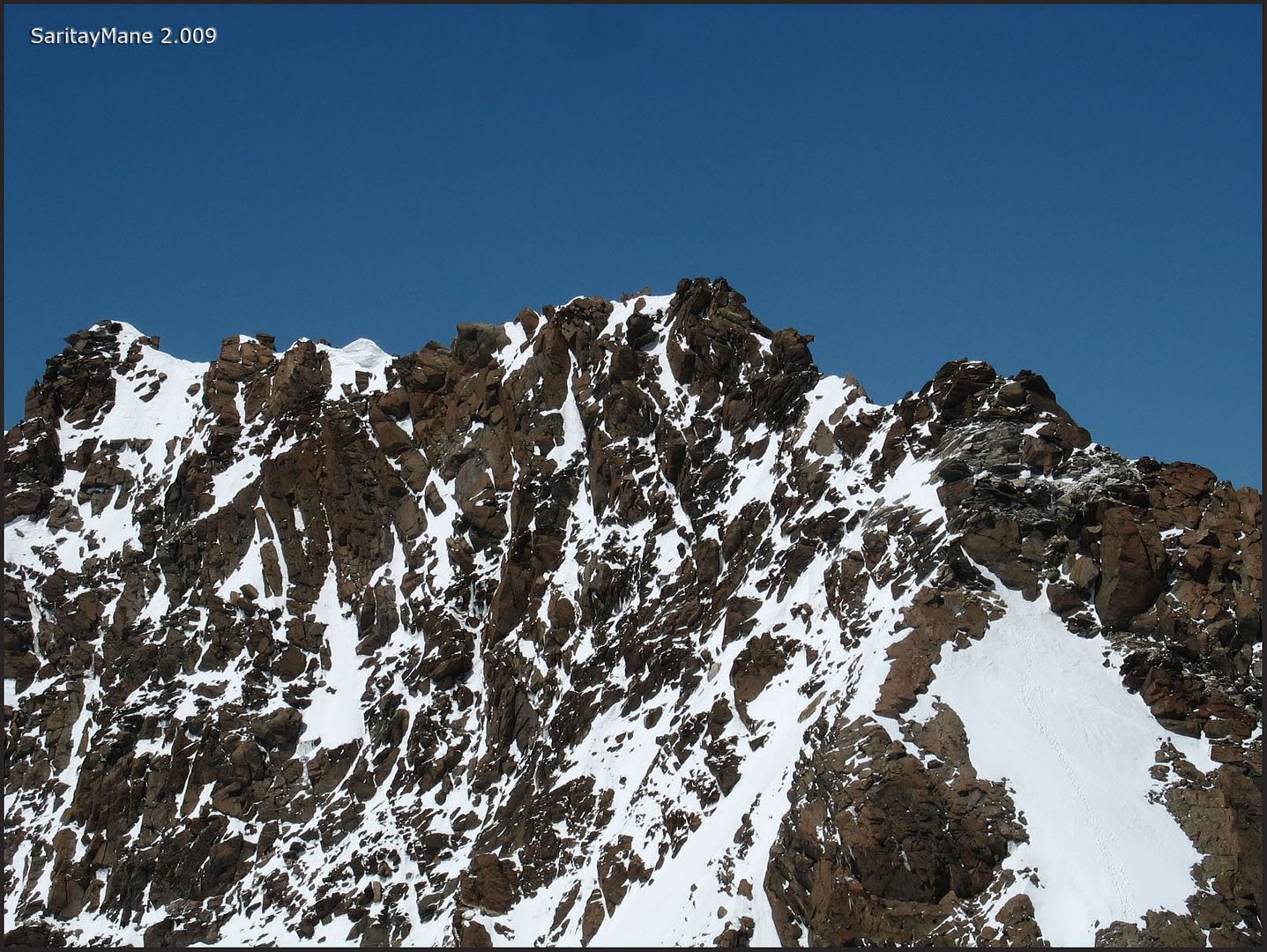 ... Nordend...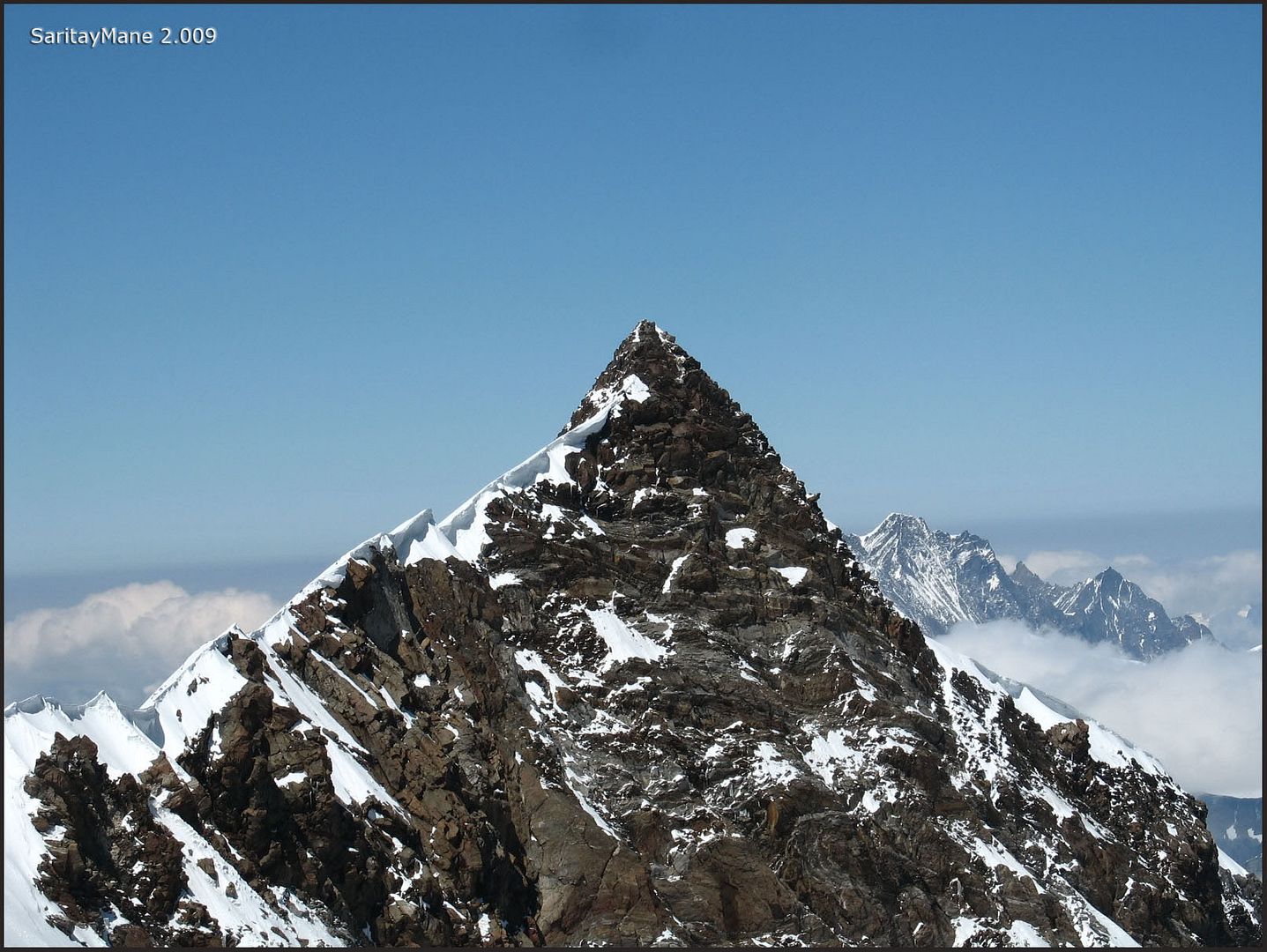 ... the valley at their feet...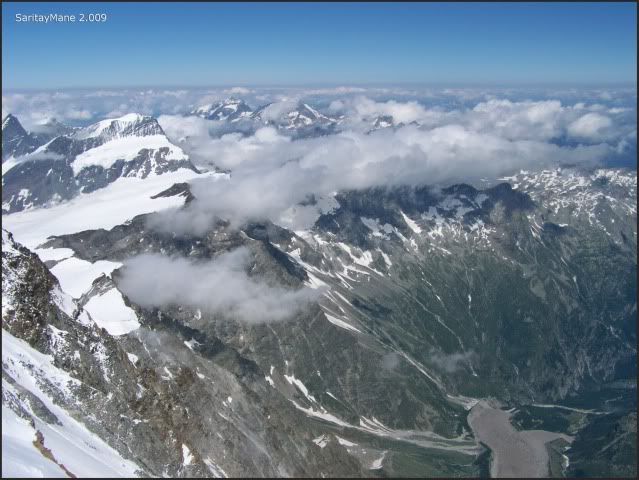 ... long fall.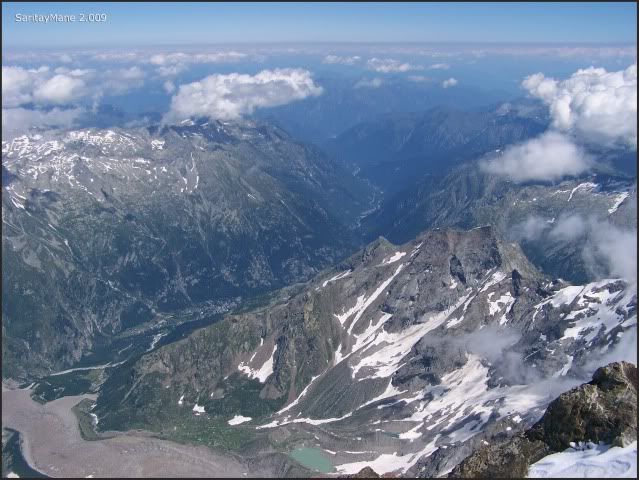 Clouds envelopes partially.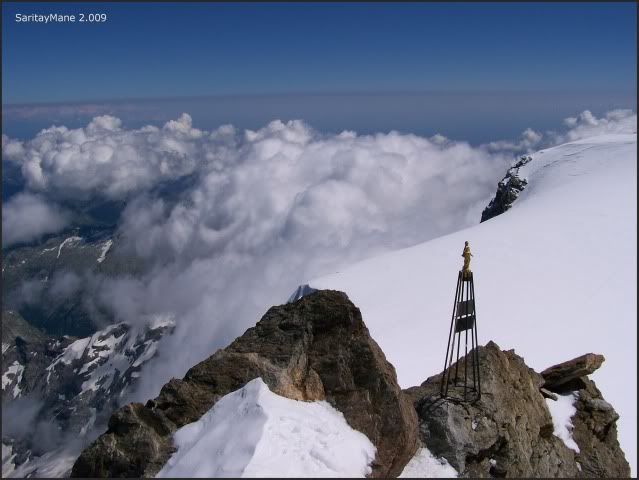 Signalkuppe with the Capanna Margherita on the top.
Our rest place.
Parrotspitze in the foreground.
Ludwigshöhe and Corno Nero tomorrow goals.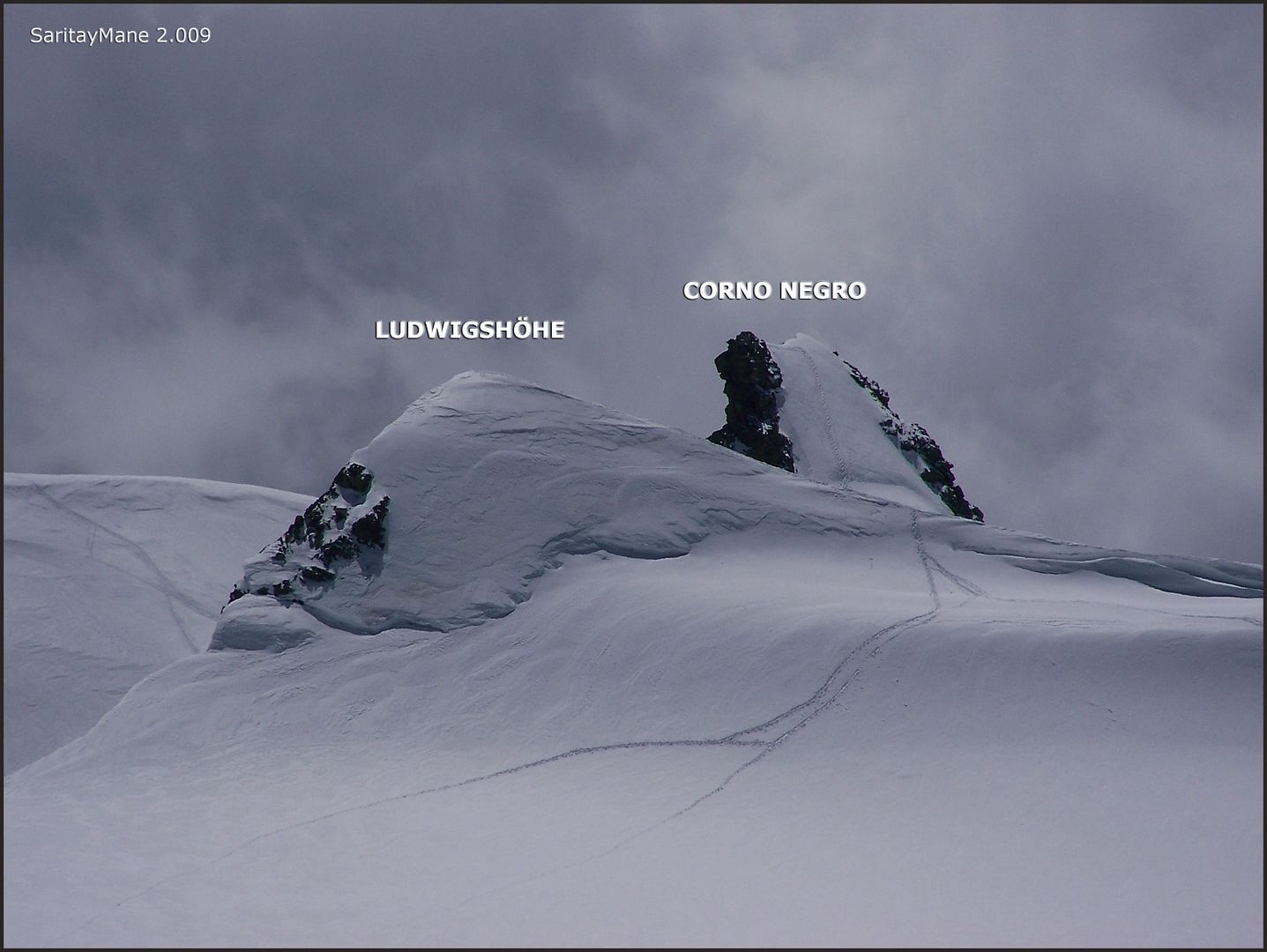 Lyskamm...
... its impressive North Face.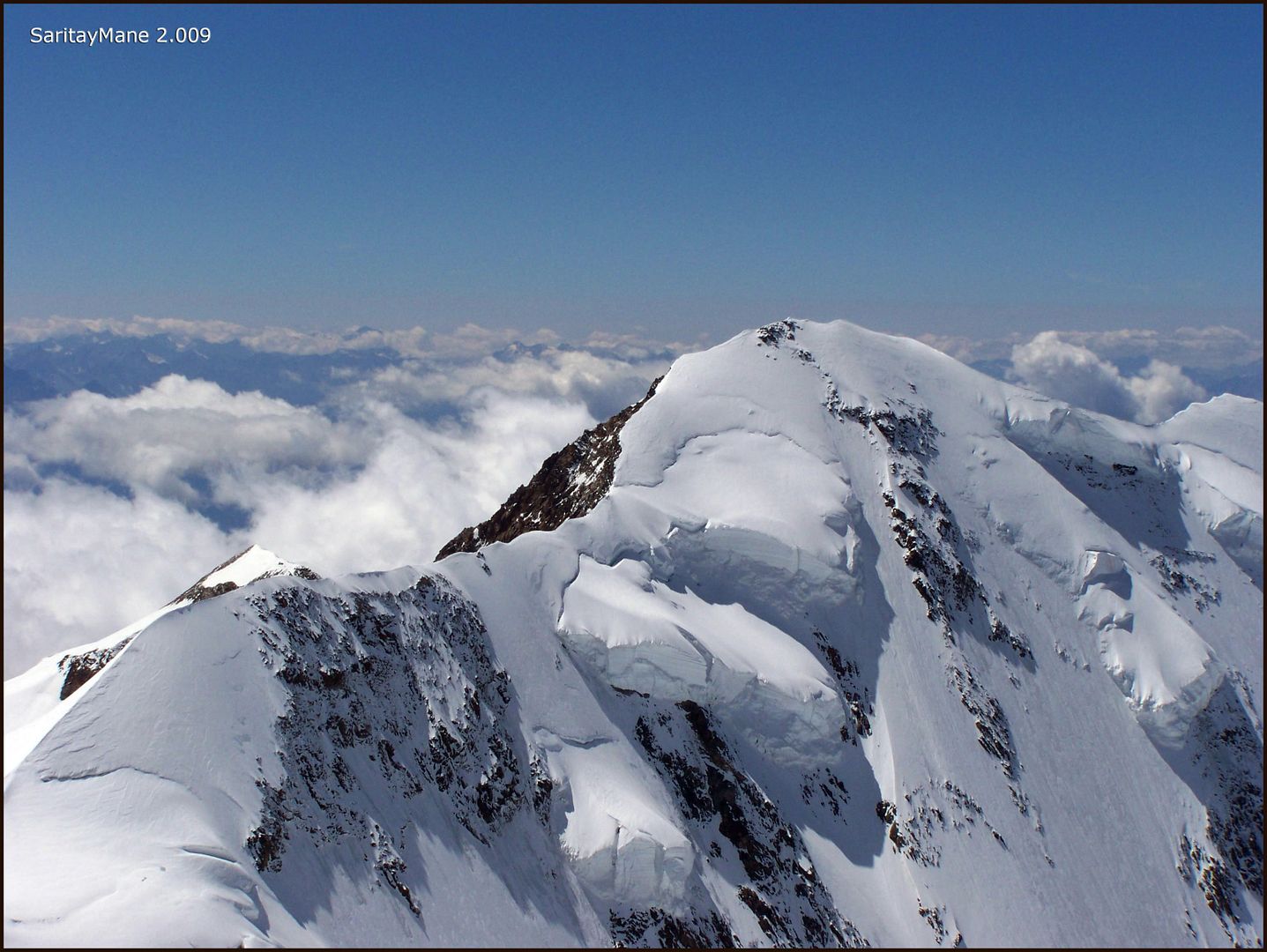 Mont Blanc...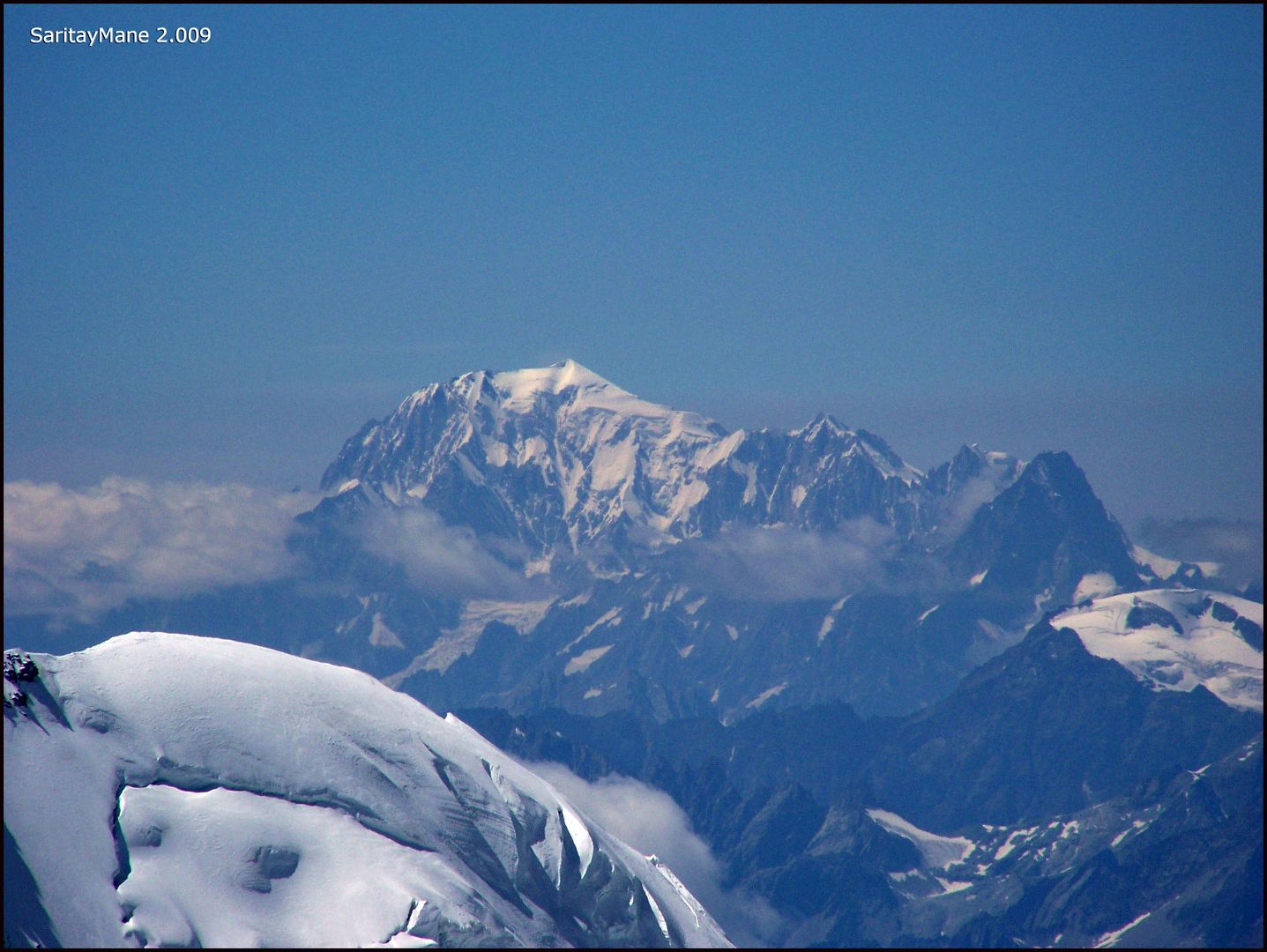 .. and Cervino...
... can't stop looking at.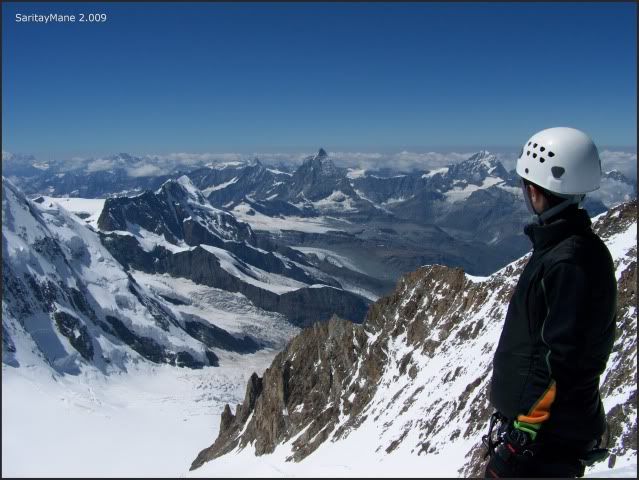 It's getting late, better move off... In addition I begin feel a bit sick and headached. We didn't hidrate ourselves adequately.

Say good-bye to the summit.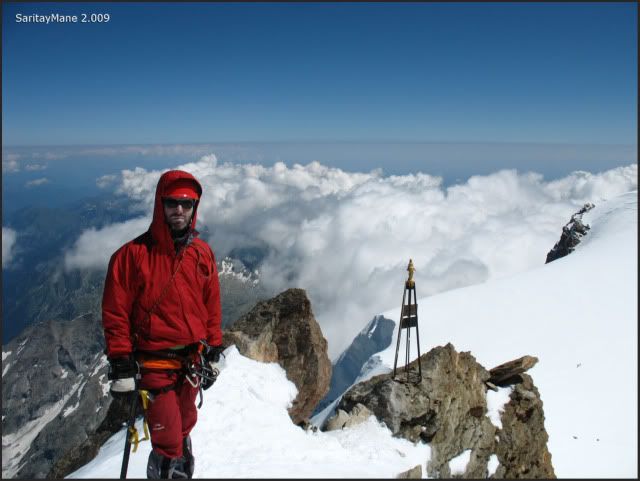 Descending carefully.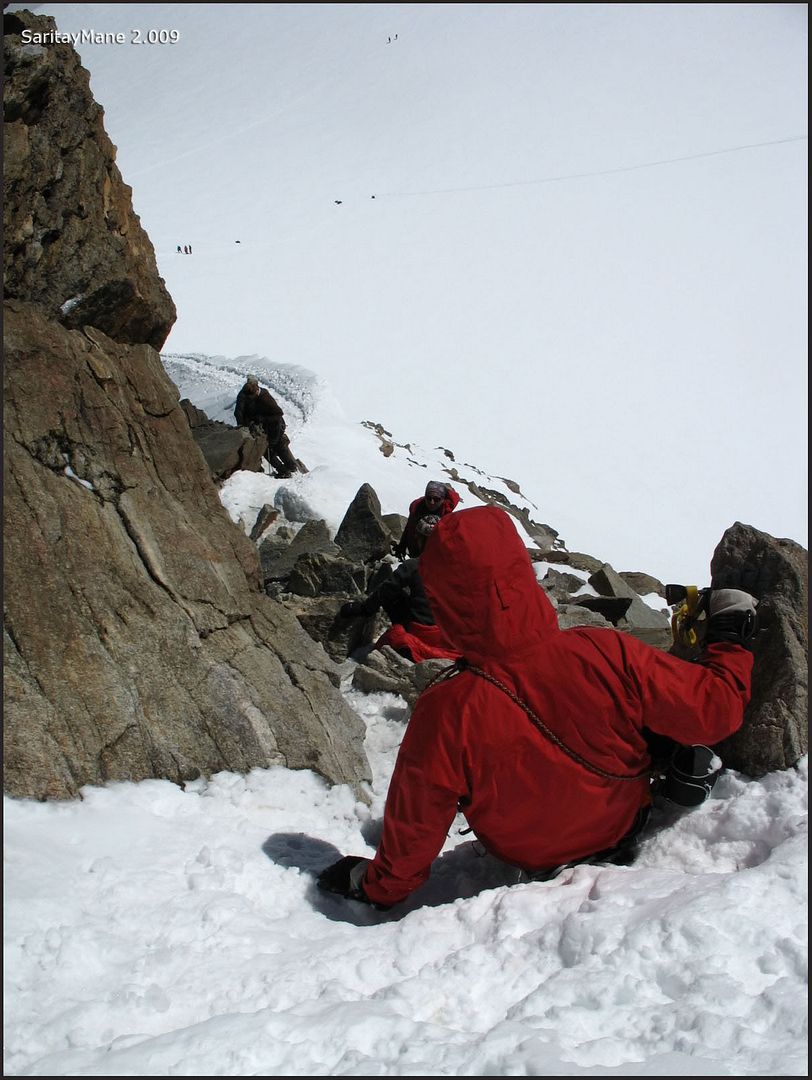 Jammings on the rocks.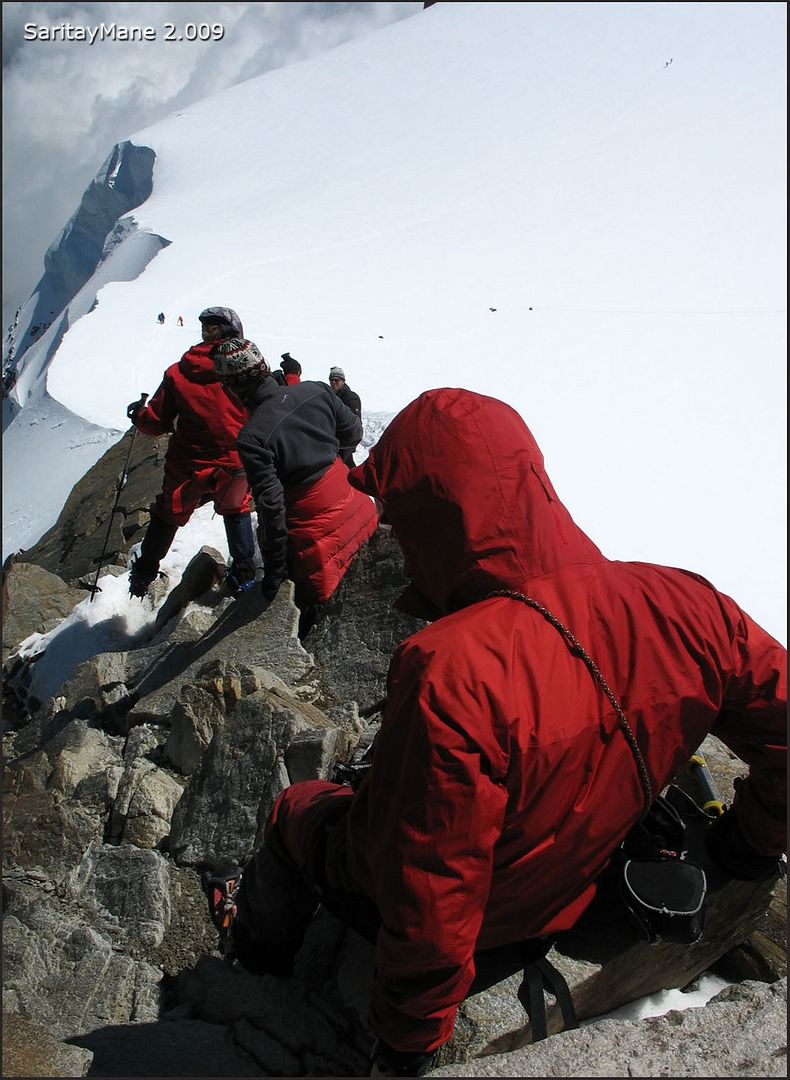 Gran Paradiso among clouds.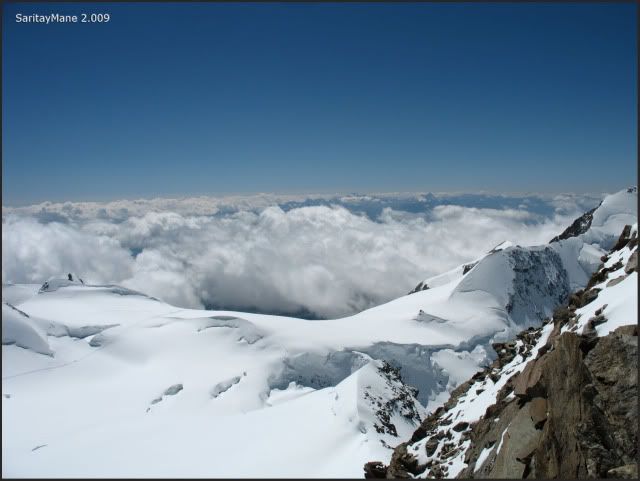 Better not to fall down... short but exposed crest.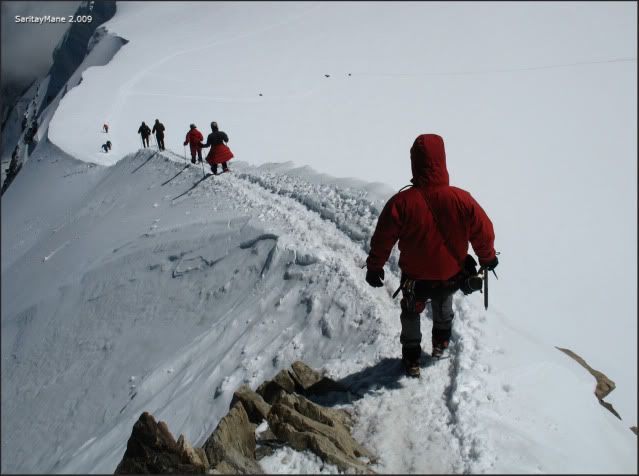 End of hindrances.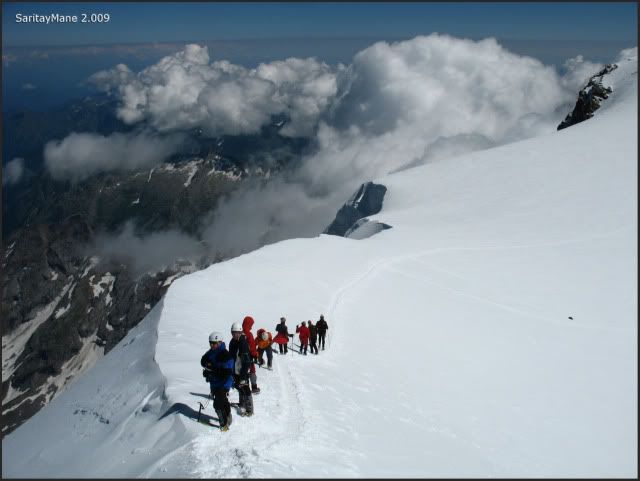 Finally we reach the backpacks and rebuild them.
The last slope.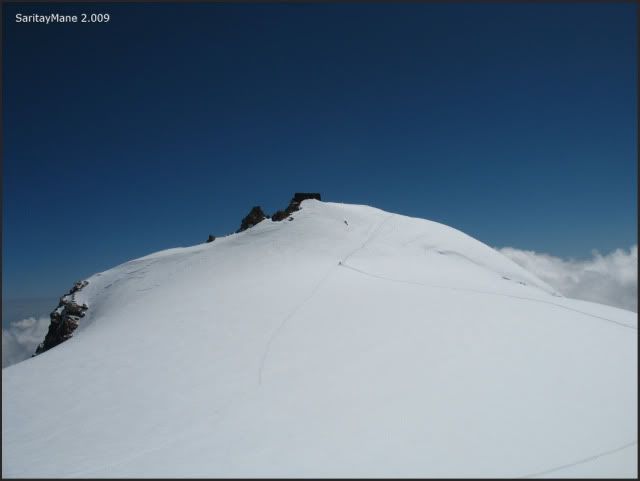 Zumstein a bit busy now.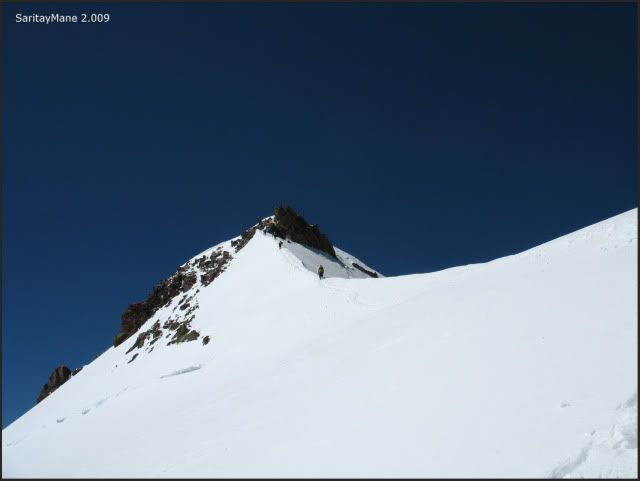 Towards our last summit.
Mane hastens.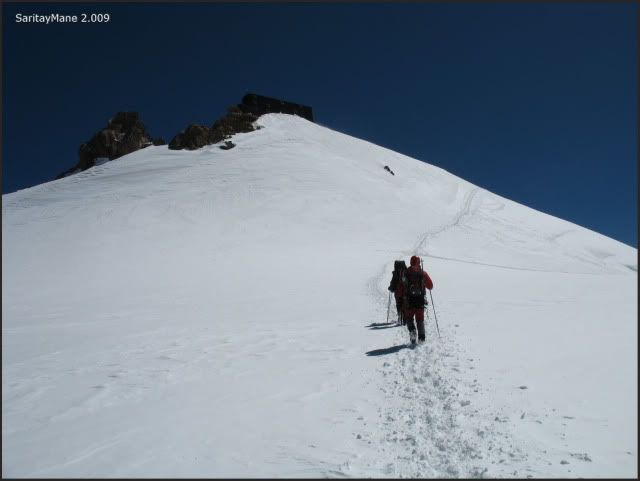 Looking back.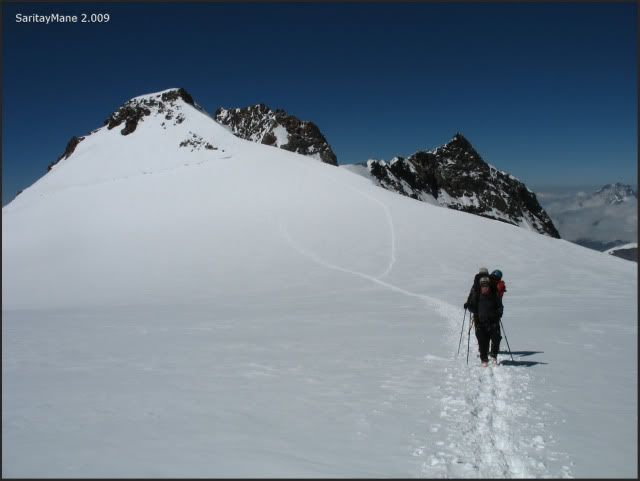 After ascending a bit we can see the Cervino.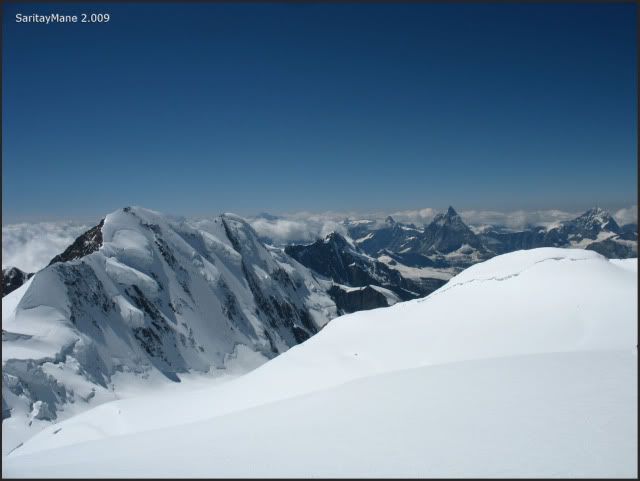 This slope gets hard.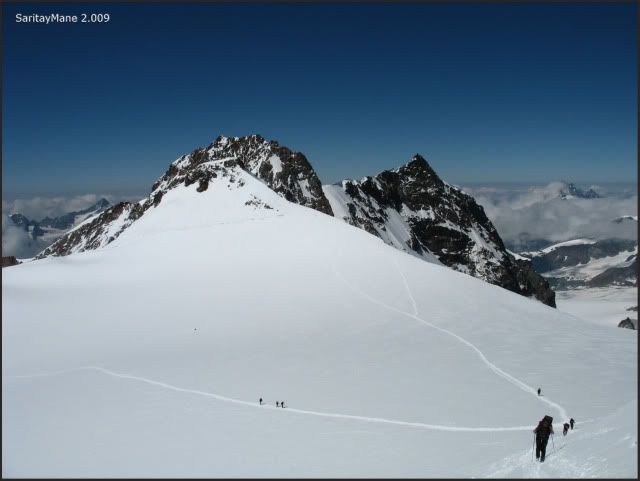 I stay back.
Fortunely we're almost there.
This beautiful Virgin gives the wellcome to us.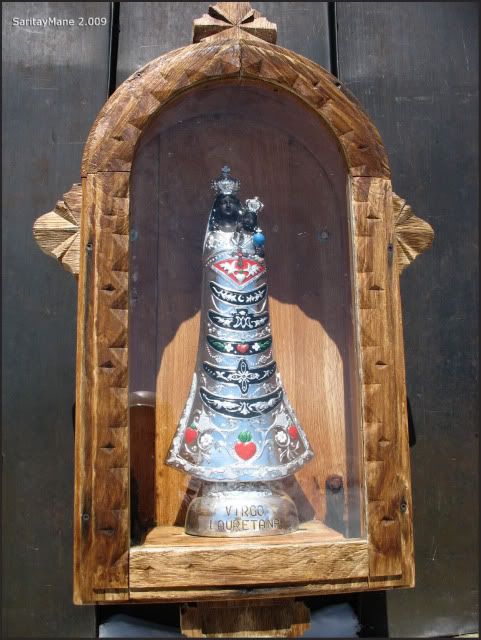 View from the entrance.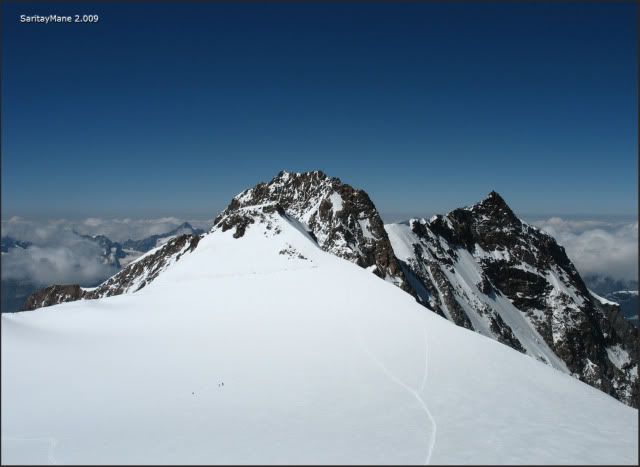 Southwards, Gran Paradiso.
View from East balcony.
Leave the most of the gears in room on the first floor. The room is a mess with boxes and other stuff in scatterd heaps.

There was troubles with our reservation, but finally got it solved.

It's near 16:00 h and have to wait untill 18:00 h for the dinner. It's too busy in the livingroom. I still feel a bit sick. I take a camomilla for my stomach.

We spend 60 € per person for members of federations, but we have many conveniences on this top of Monte Rosa. That worths the price.

Hut's got threee floors: First floor is for a large livingroom, reception and some bedroom. Ocasionally the livingroom is used for emergency posts. The second floor has bedrooms and the third floor has also bedrooms; but currently, some of these last ones accommodates subjects of an experiment to research the altitude illness.
By the time we spend there, we witnessed some group of climbers coming intentionally without any either any sort of reservation nor advice. This situation is usual in this place. But makes very complicated the management not only for the keepers but for the "legally" resting climbers. At last, nobody can be left out up here at this altitude. This blackmails the keepers. We've seem many people left out in huts in Pyrenees in similar situation. But in Cappana Marghererita this is not a chance.

Have regard for this is important here. This is not a hostel near the valley, it's an installation isolated at the top of a very high summit in Alps.
Dinner is short and simple. Better to finish it as soon as possible and take a place for the sunset.
A picture from the East balcony.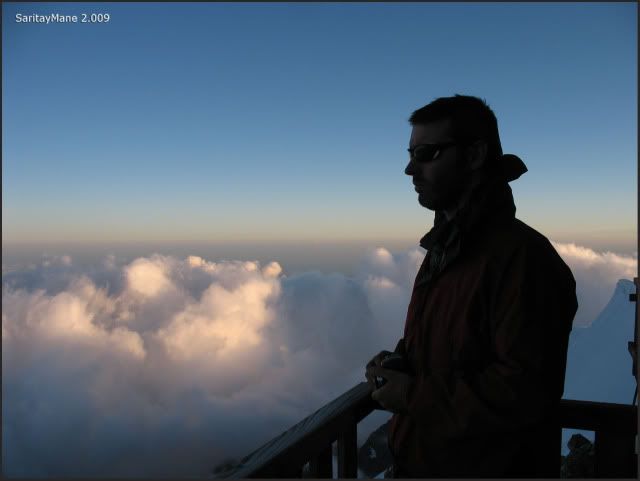 Hanged over 1.000 metres (3,280 ft)...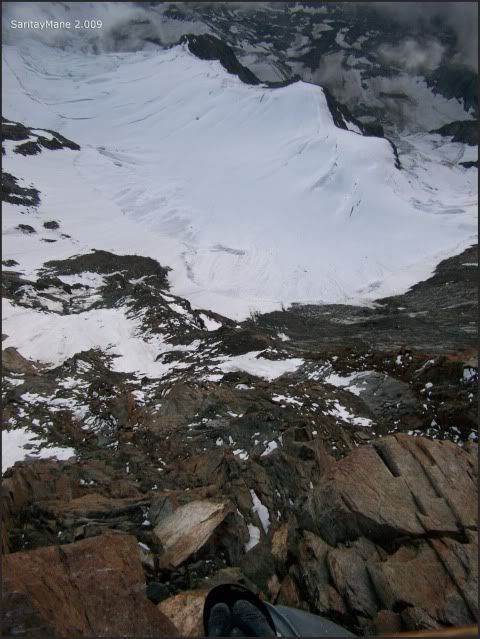 ... "touching the void" balcony...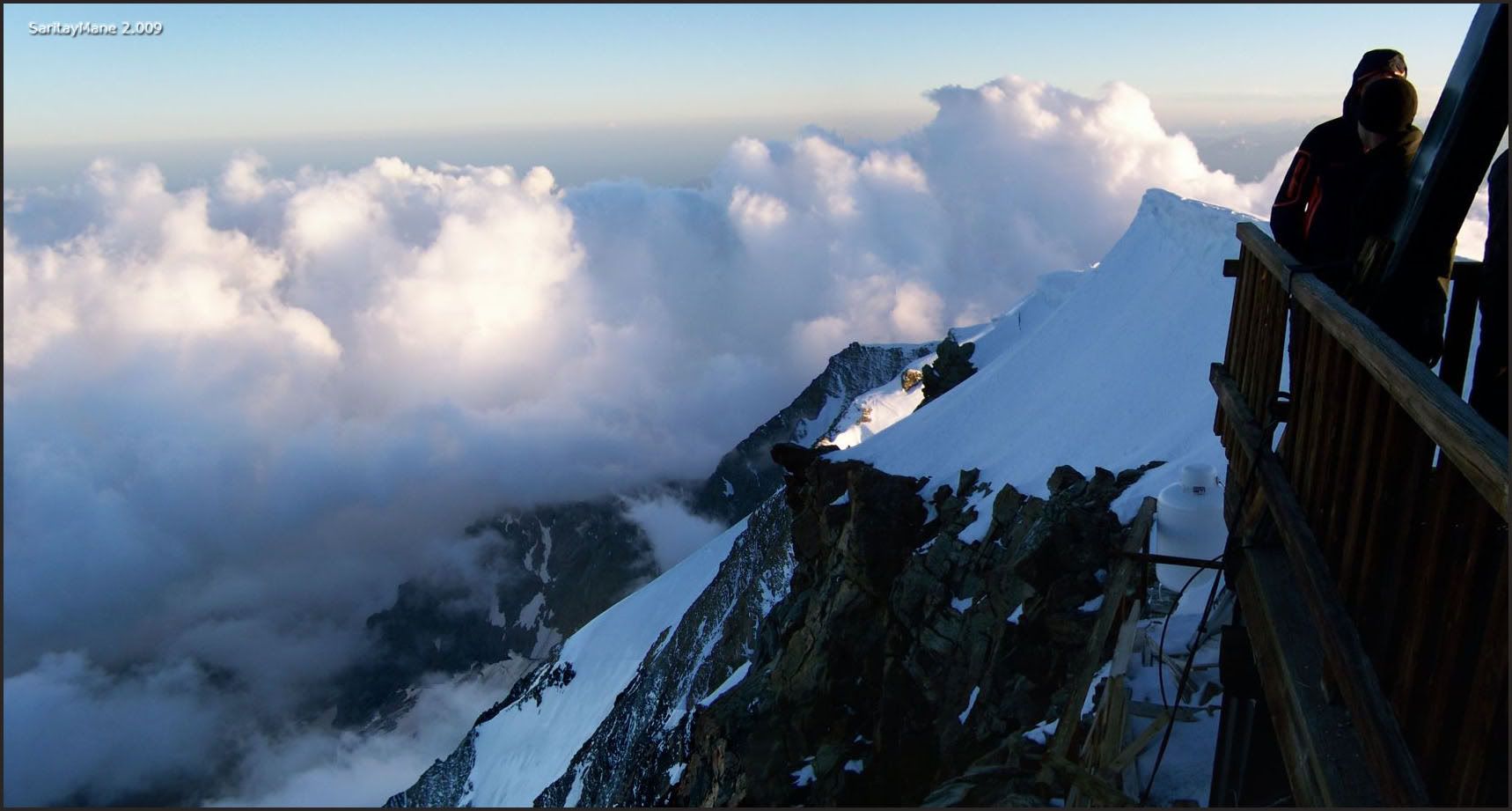 ... clouded all around...
... while sun begins declines westwards.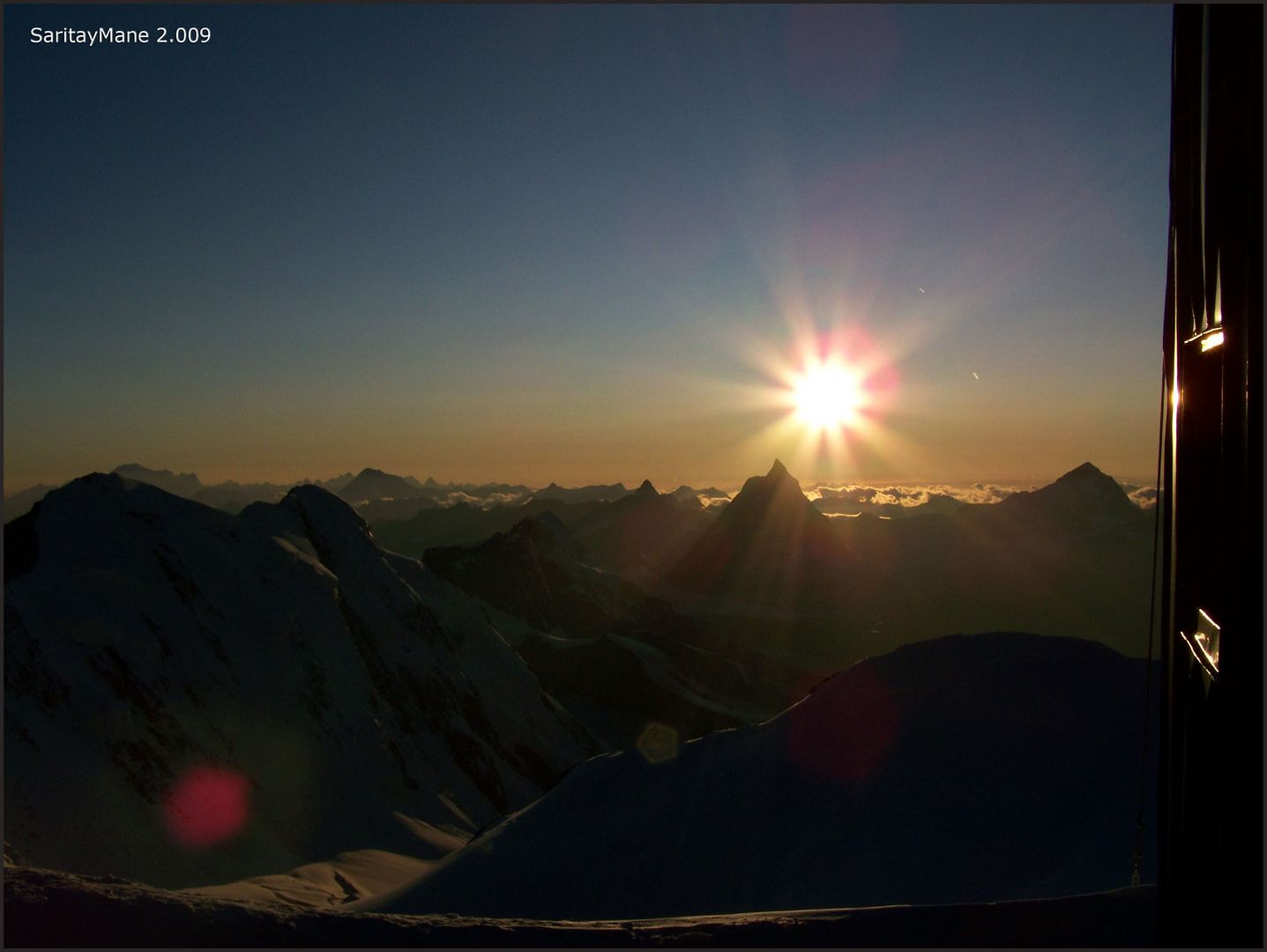 Posing on Cappana's balcony.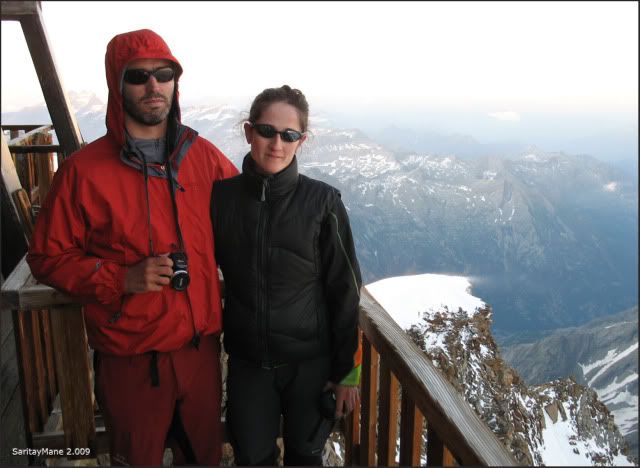 While people crowds at the stairs, the best place to see the sunset.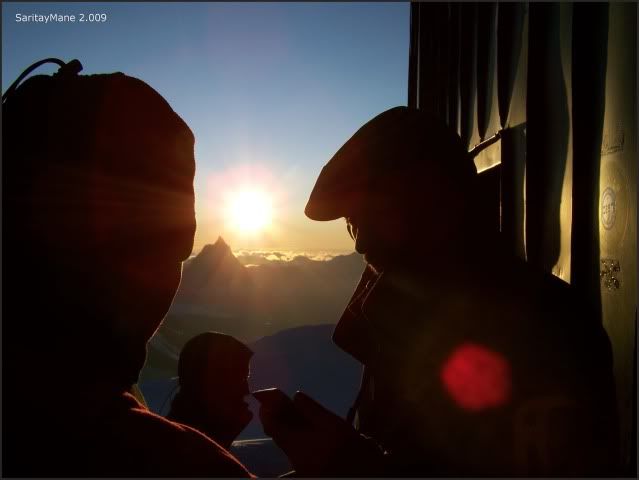 The highest bannister in Alps?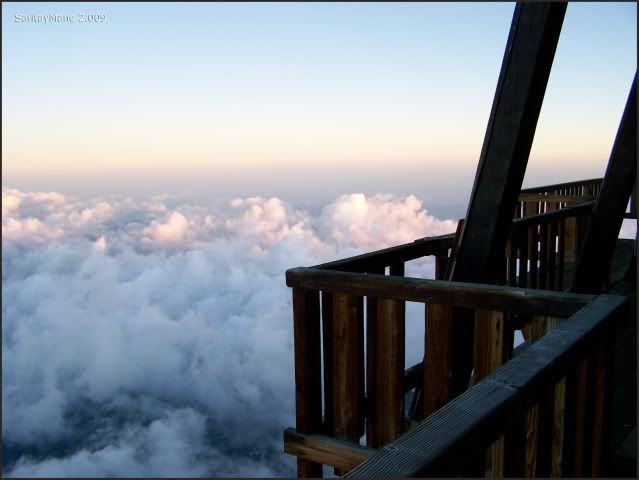 Signalkuppe's shape projected in the horizont...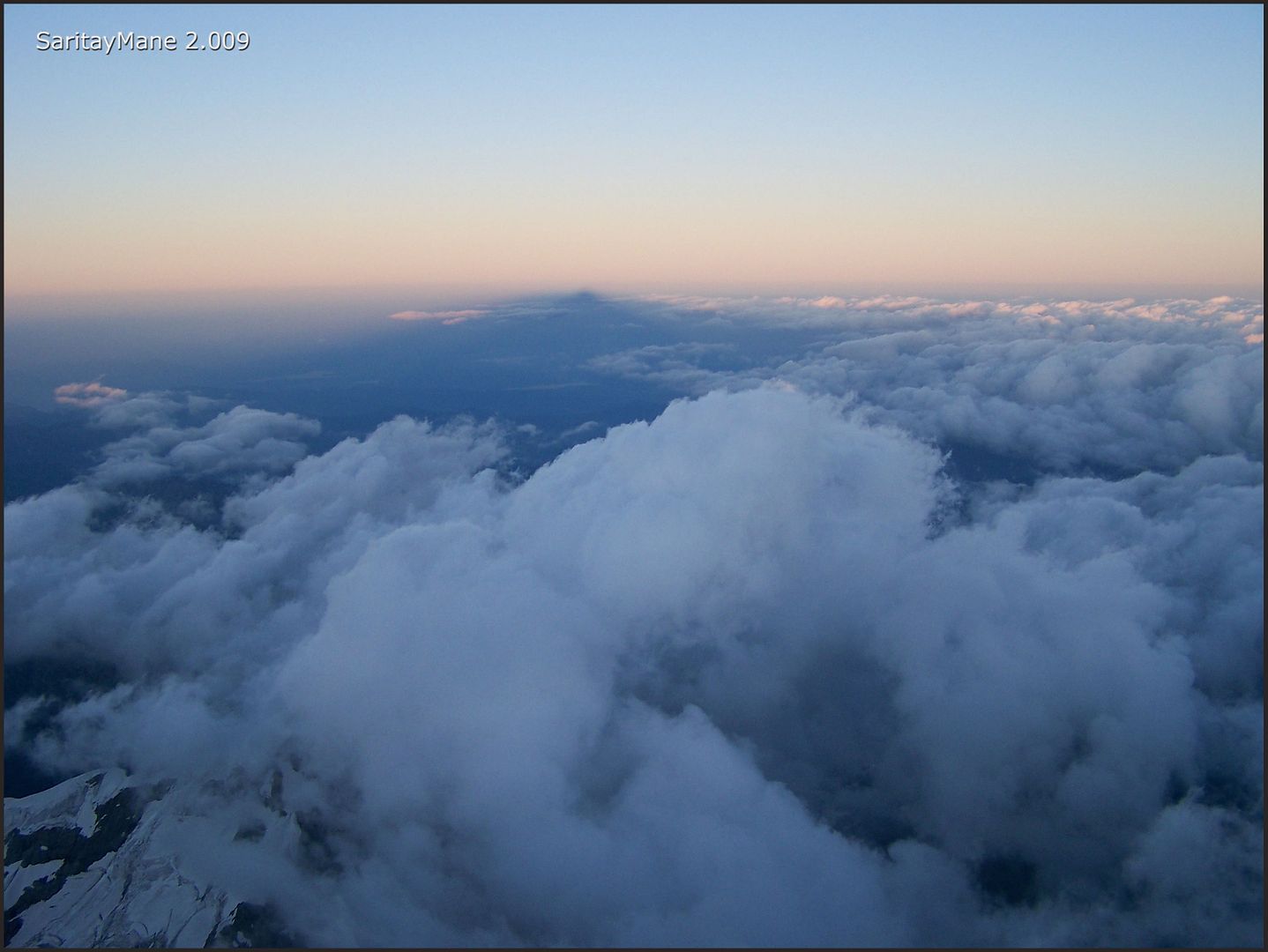 ... more above the clouds...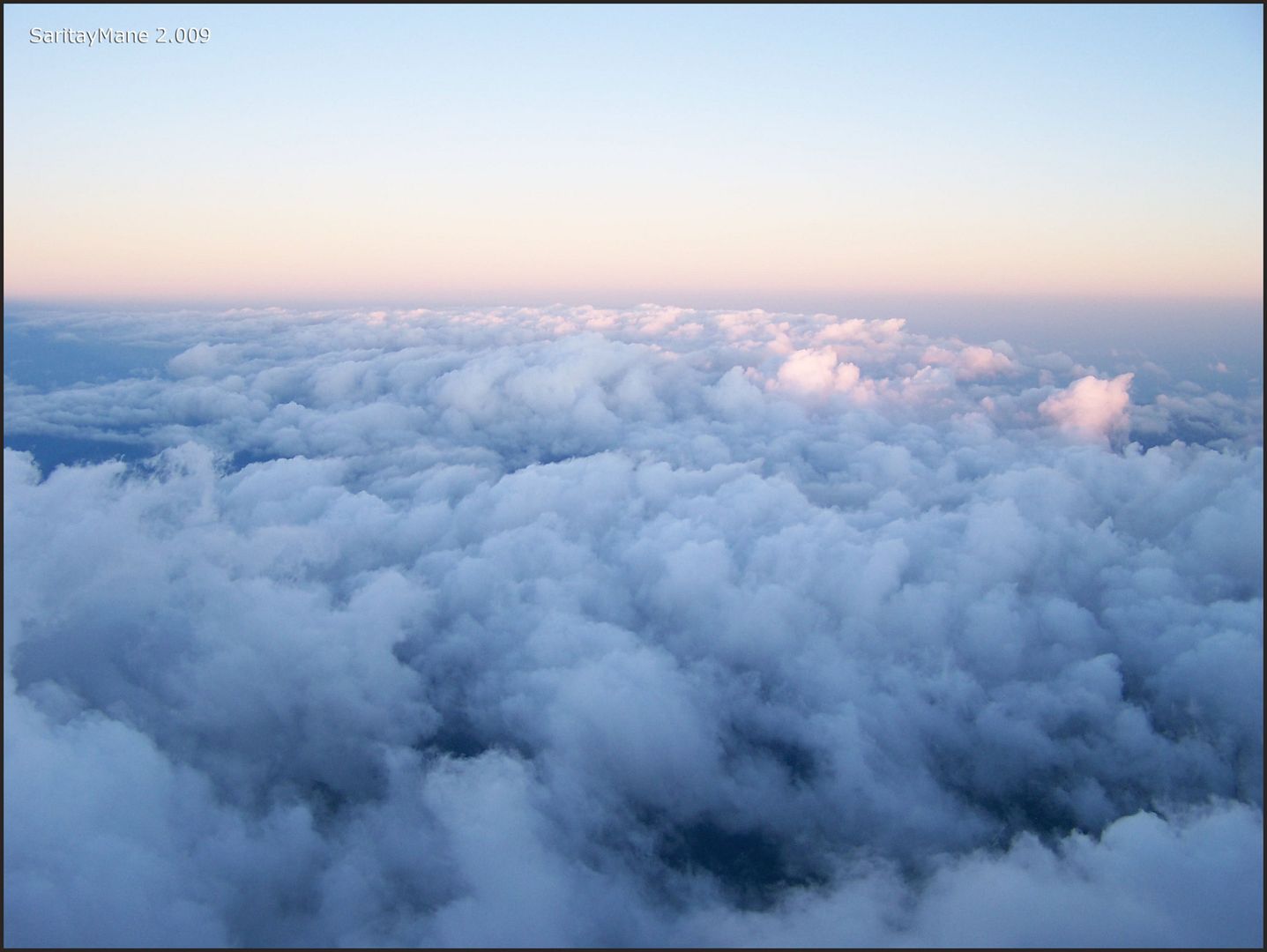 ... that's way we're here, no?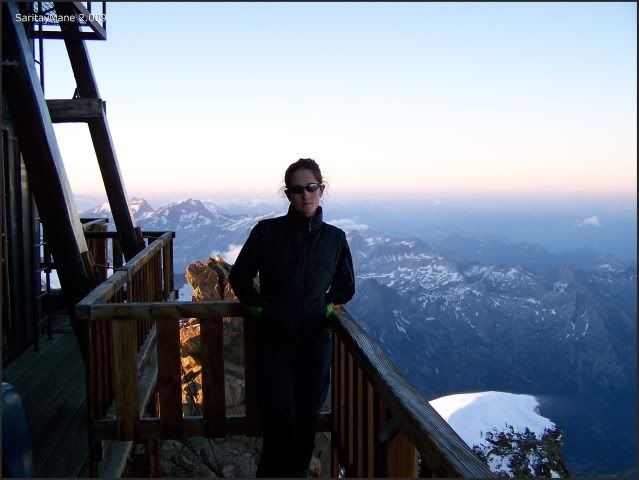 Definitely people crowds at the stairs to get starred at the most beautiful dusk in this part of the world... maybe.
... isn't it?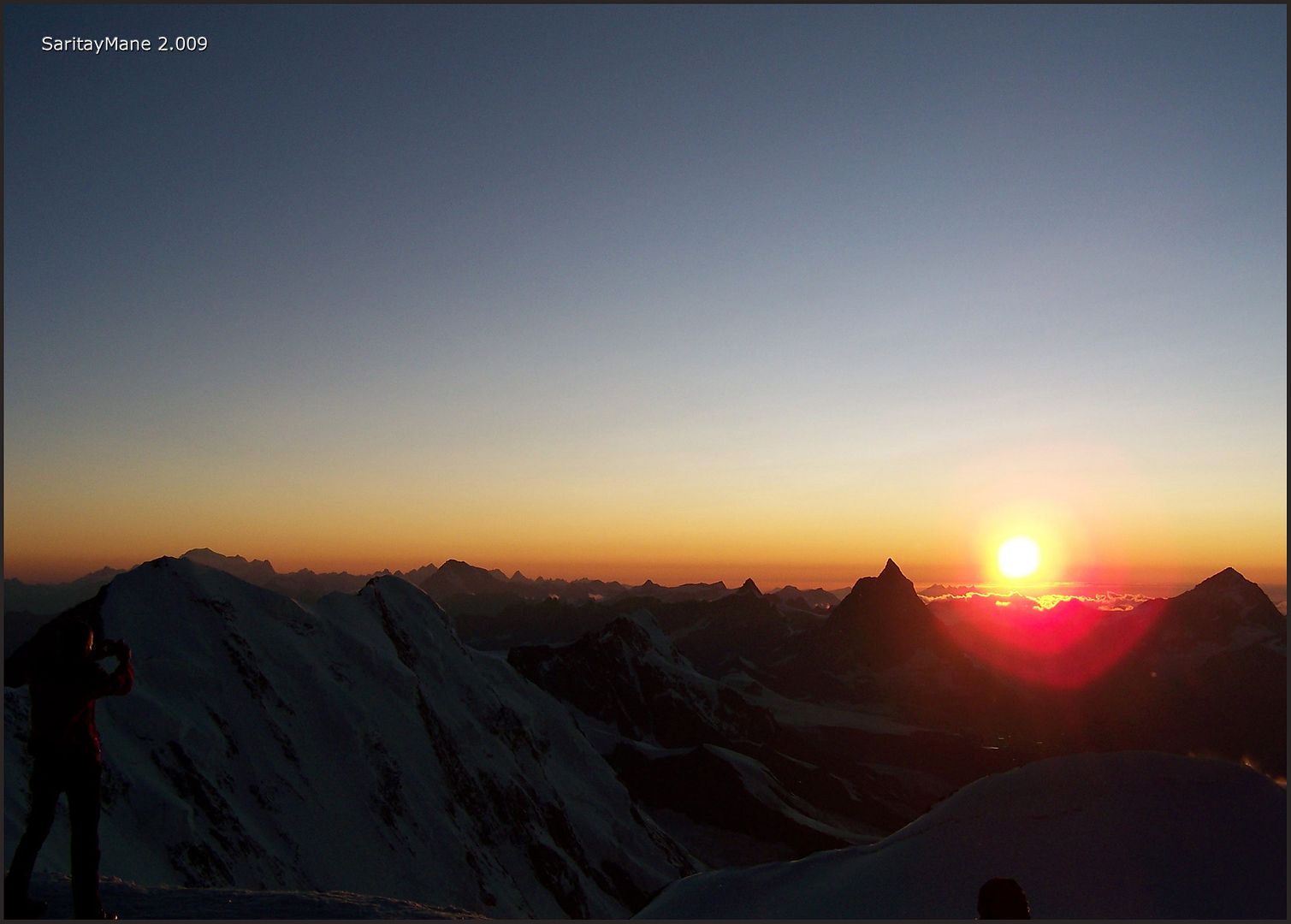 Is it a Hollywood star, a famous rock band, some genius signing books... no it's the sun saying good bye!!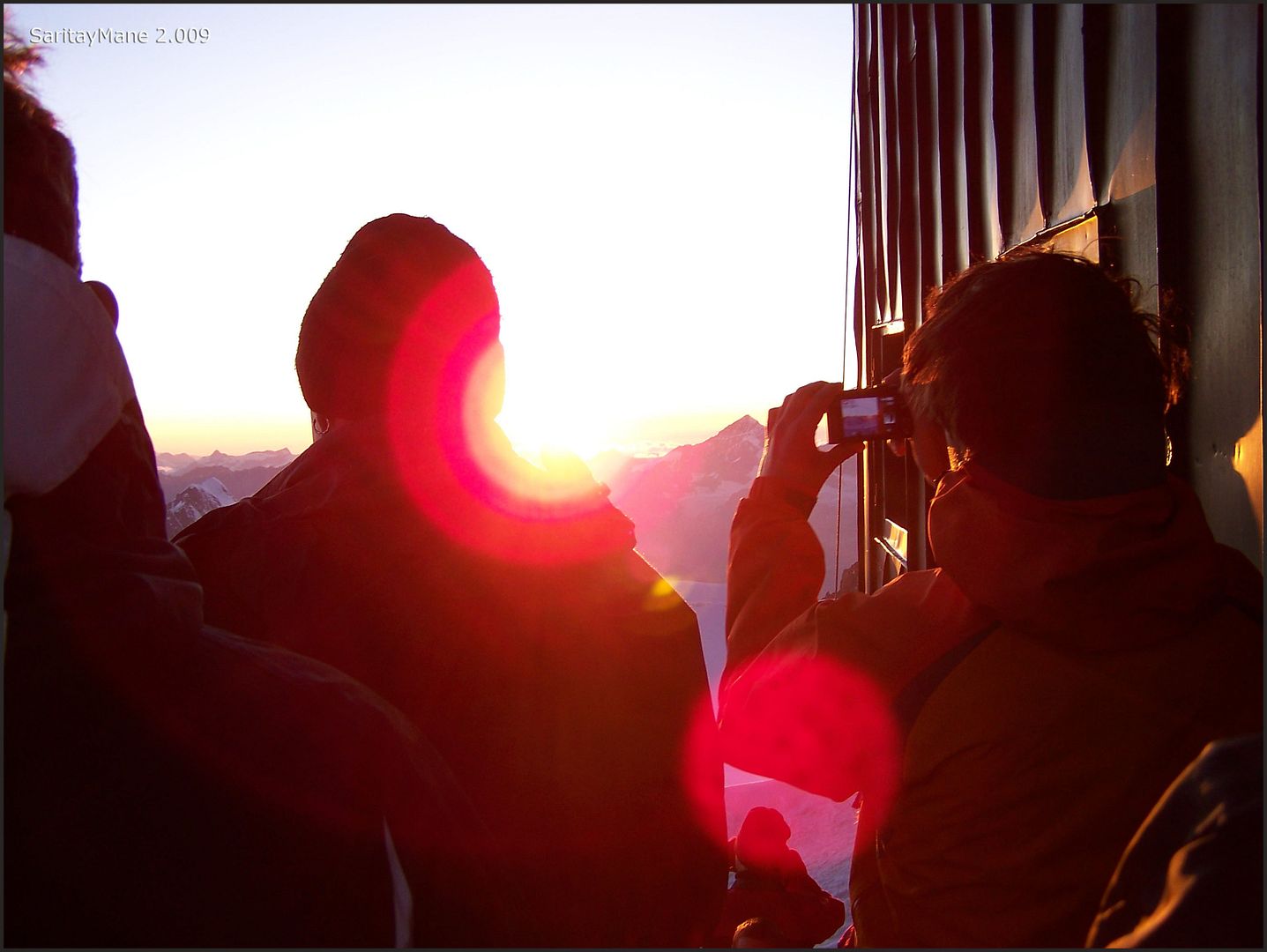 We fight to take a seat and finally do over others.
Such a view...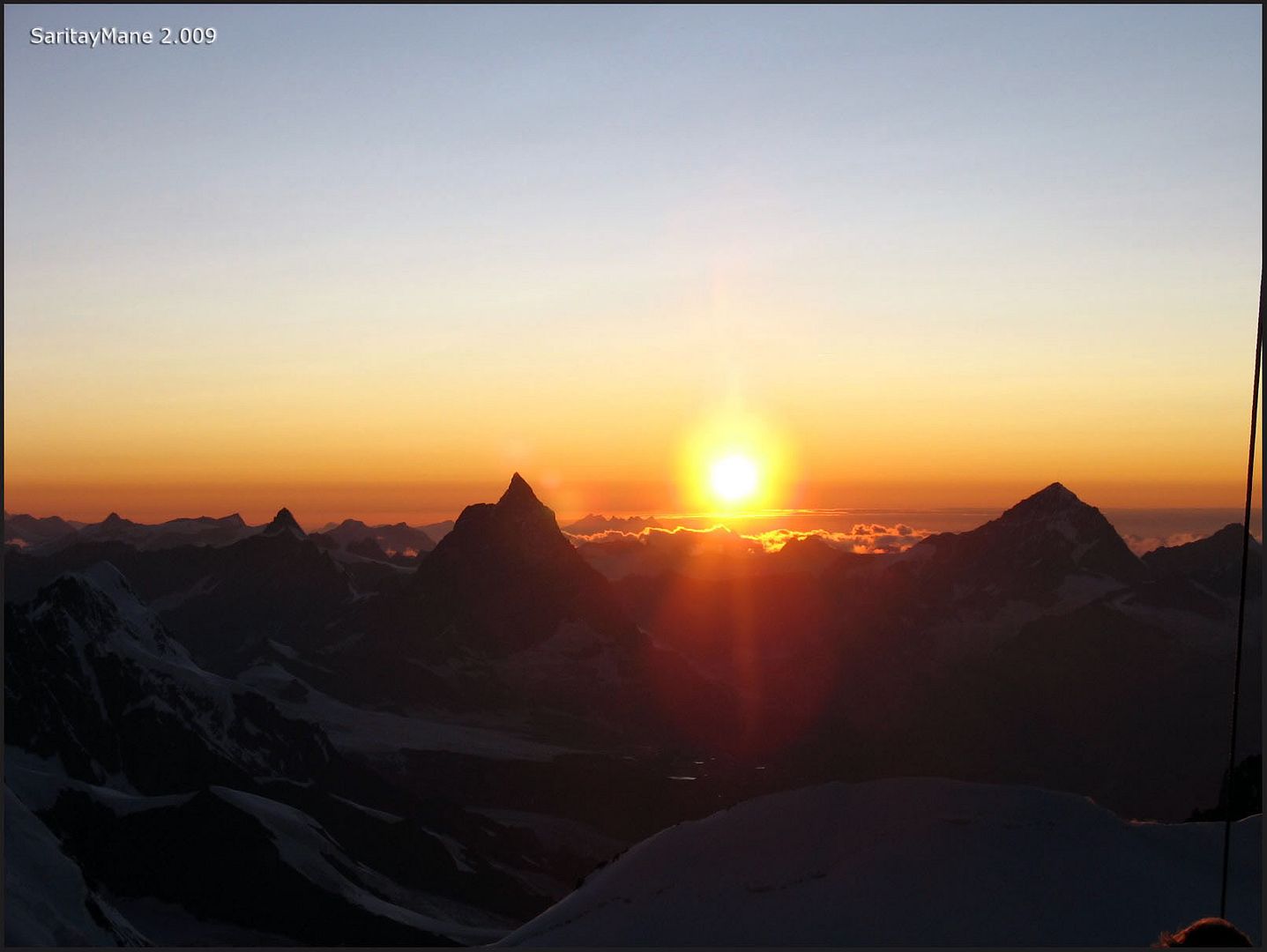 ... for once in a life.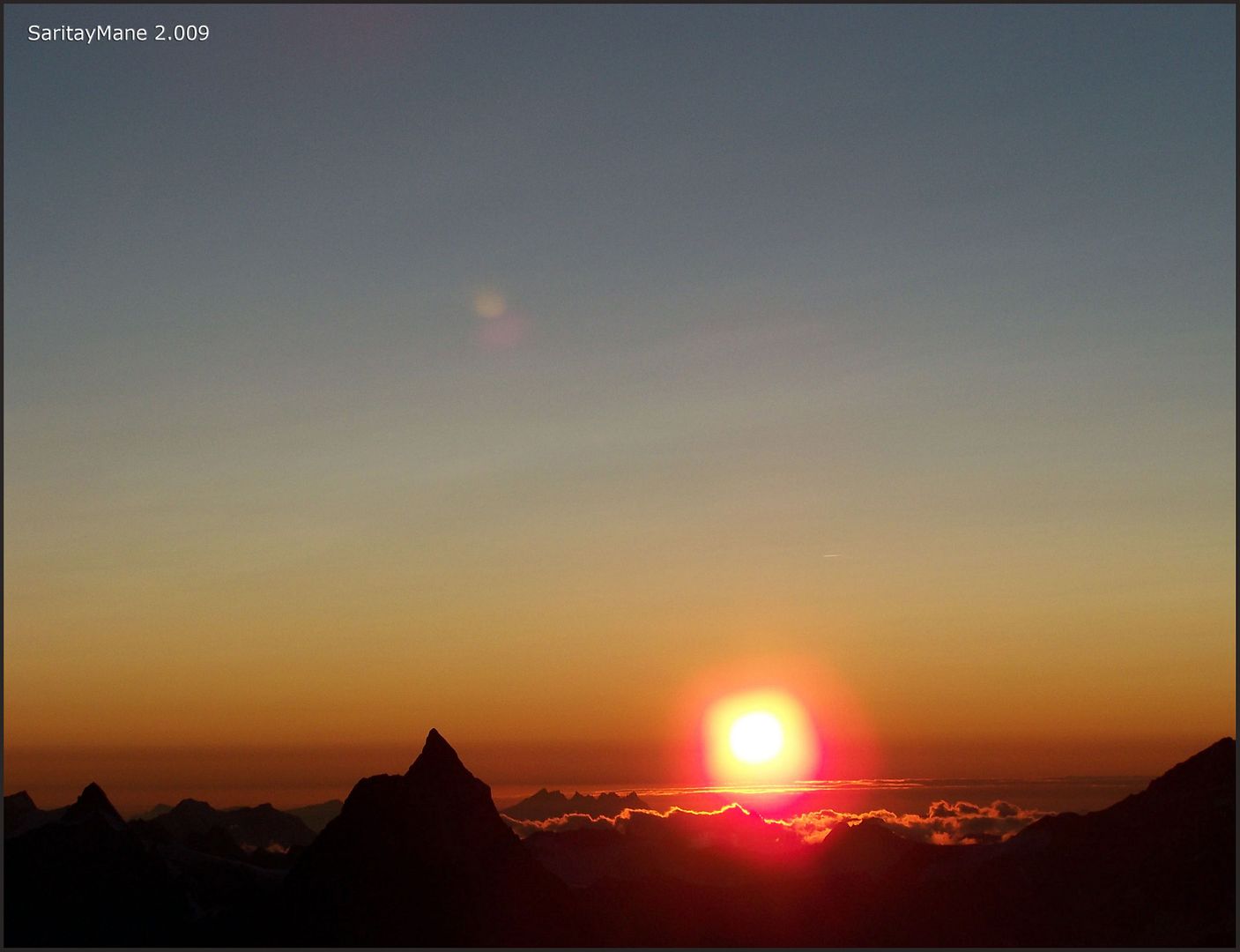 Signalkuppe or Punta Gnifetti's Summit (4.554 m – 14,940 ft).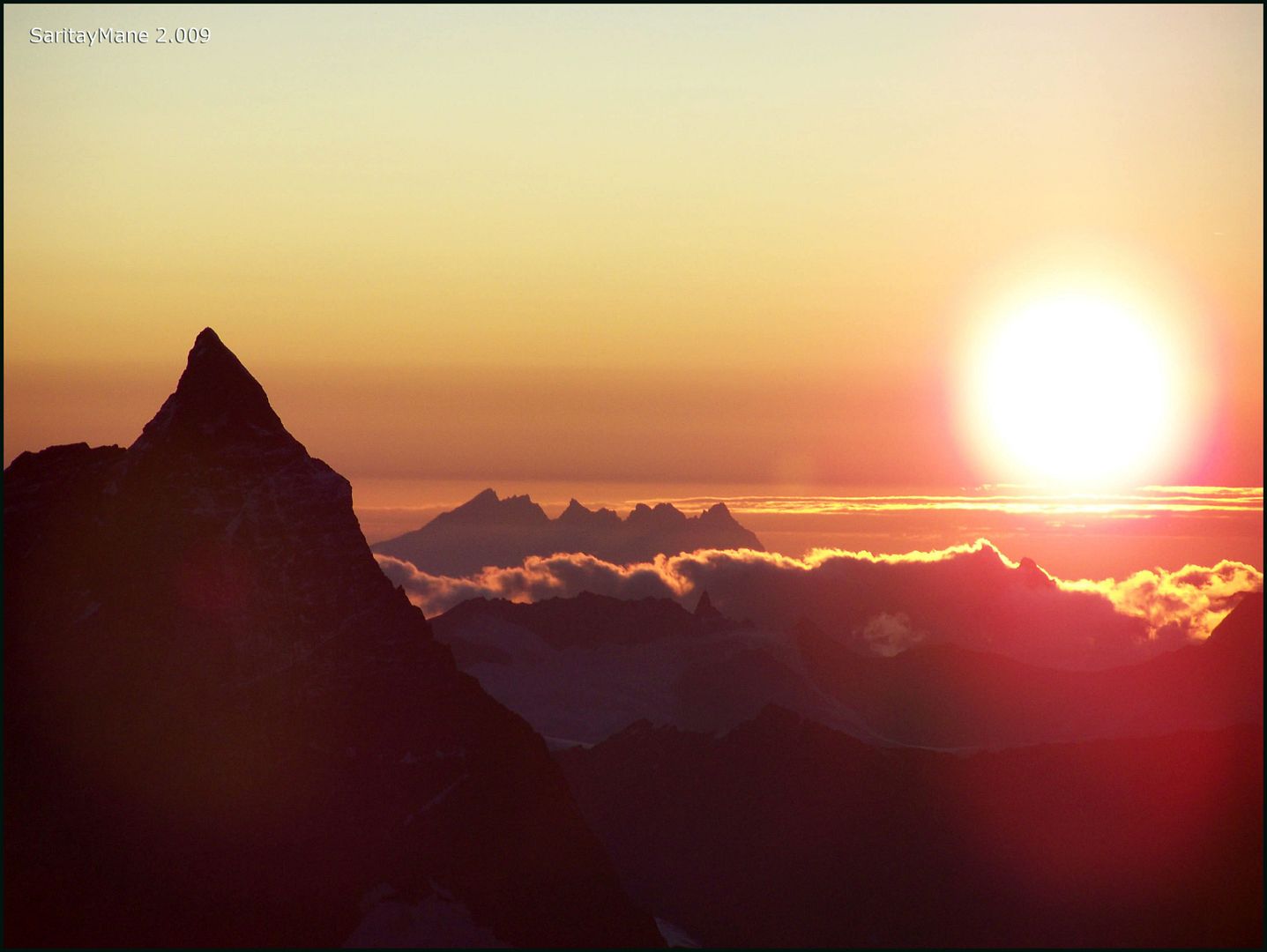 Sun's already beneath of us...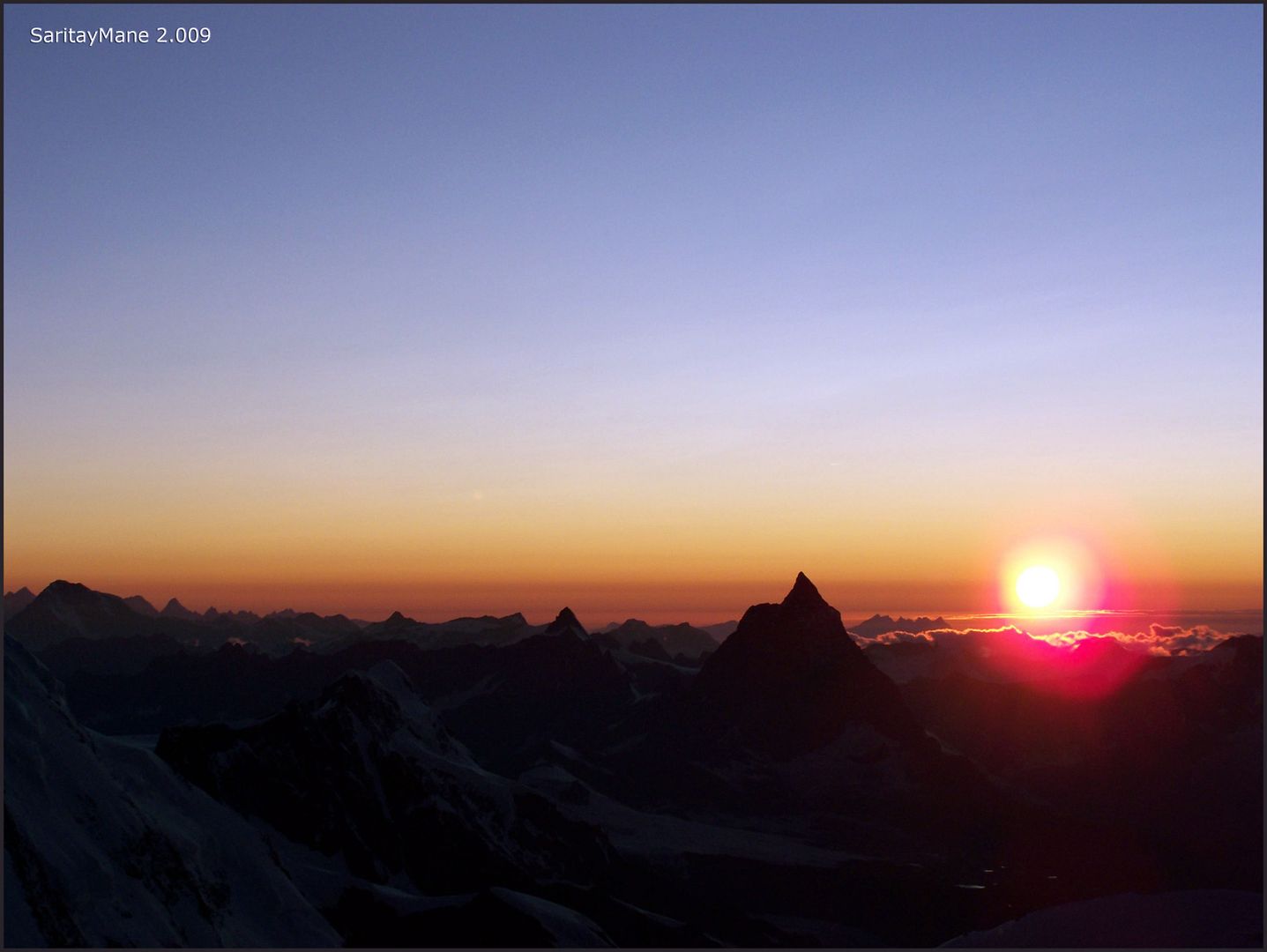 ... all these moments will be lost, like teardrops in the rain (feel like an already died replicant)...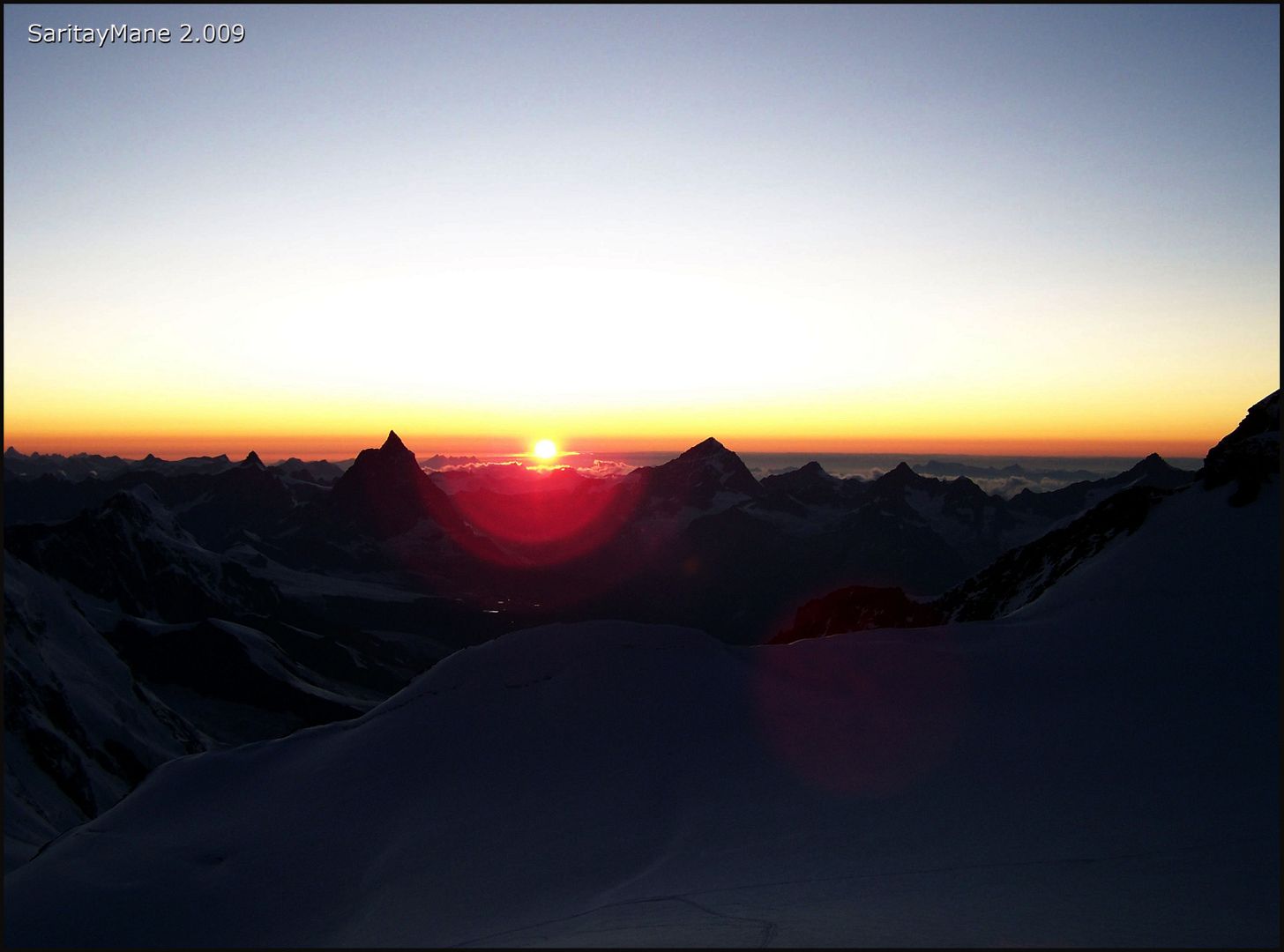 ... sun's gone, hope not forever...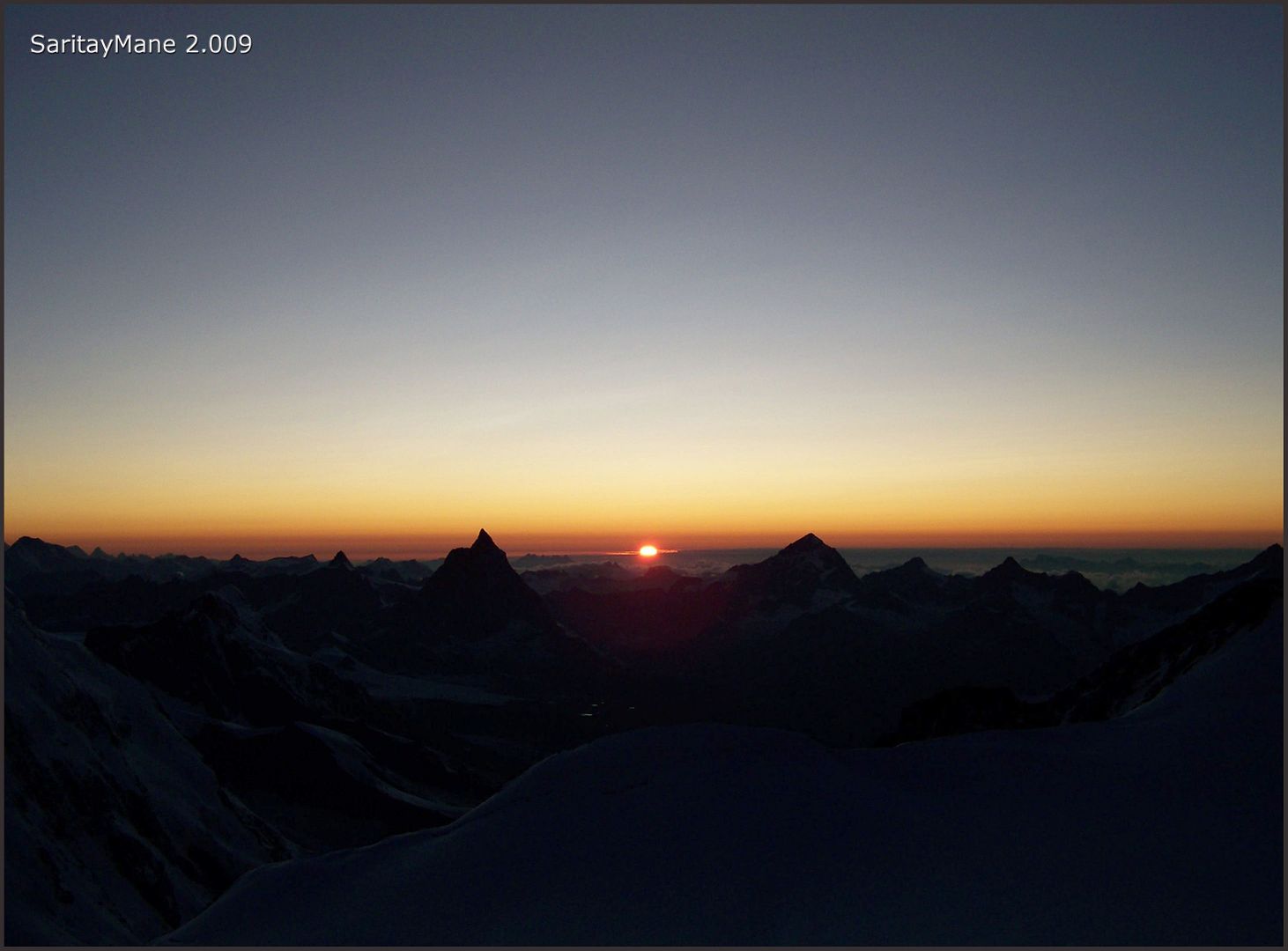 ... at least untill next day.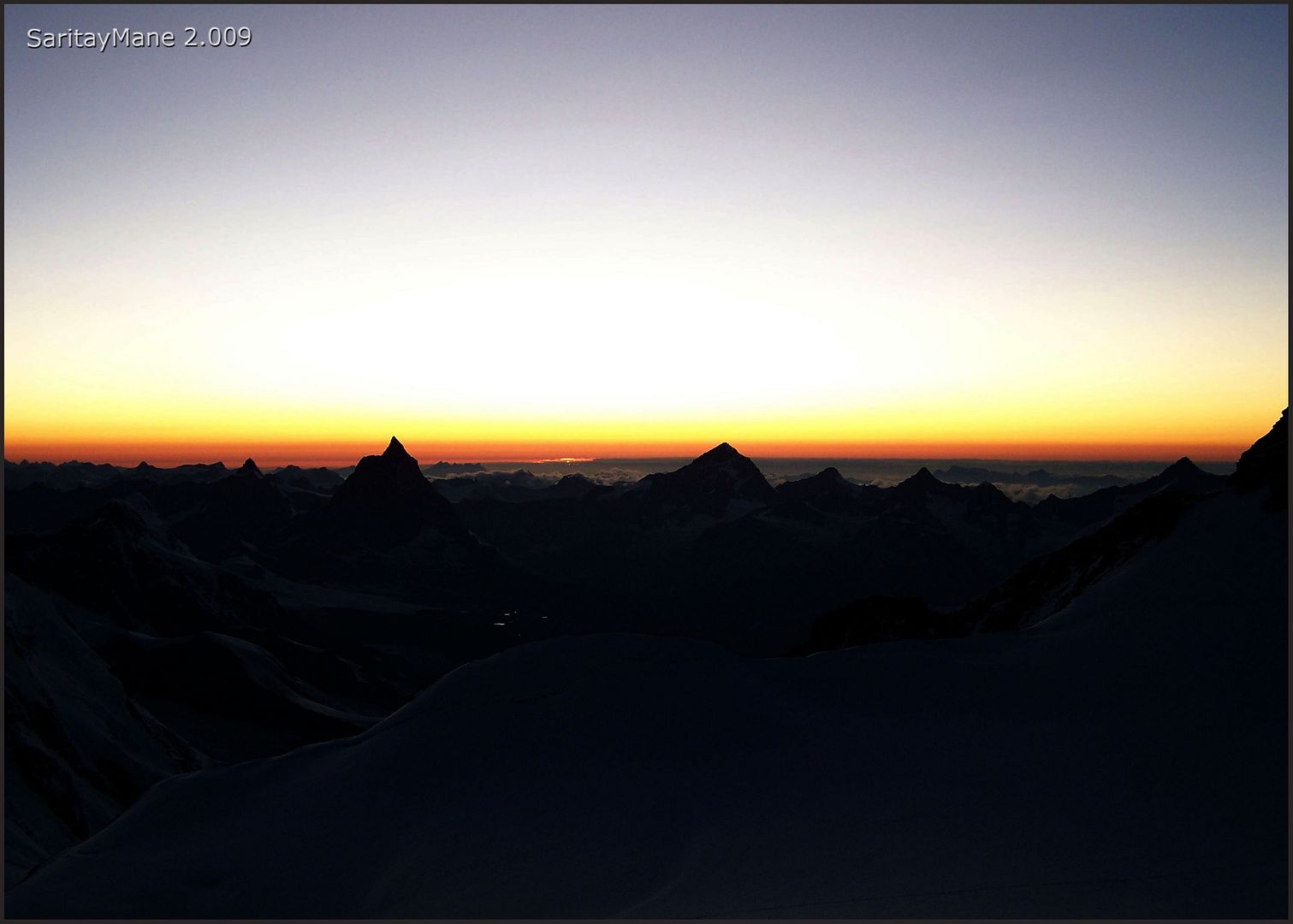 Good night and good luck...
Want see more climbings in Alps, check this: ASCENSIONES EN ALPES. Maybe we're not professionals, but we bring this all to you.